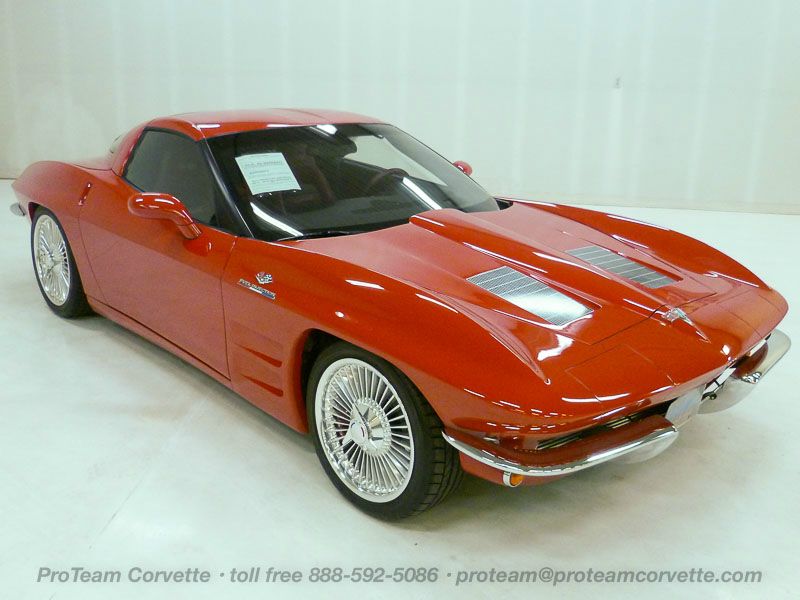 1030Q..
1963 Corvette Split Window Karl Kustoms Conversion
on a 2008 Corvette, 6.2L, V-8, 6 speed manual, car number 004C of 10 produced with 104 actual miles. Riverside
Red
paint with Red and Black interior. Amazingly attractive in new condition. Massive performance and modern drivability of the sixth generation Corvette with all factory safety features and a targa top for open air enjoyment if so desired. 3LT trim, Z51 performance package, dual climate control, AM/FM stereo, heads-up display, and faux imitation K.O. wheels and Bridgestone Potenza radial tires. Has its owners manual, Corvette DVD, and clean CarFax. Also has the GM window sticker, build sheet, certificate of origin, dealer invoice and Karl Kustom build invoices. From the Jerry Brewis collection. Looks, runs, and drives like new! $199,000.00
Share on Facebook
Questions/Comments? Email proteam@proteamcorvette.com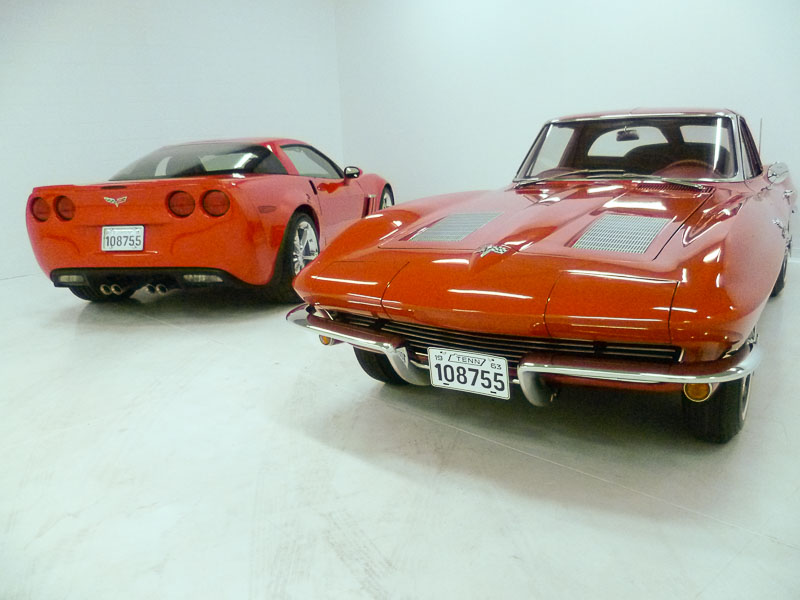 The Buckeye Bookends 50th Anniversary Collection with Matching VIN 8755
.
1044R..2013 Corvette Grand Sport Coupe, VIN 8755, 6.2 L, 430 hp, 6-speed manual transmission, one-owner car with 7 actual miles. Torch Red paint with Red interior in absolutely new condition. Museum delivery and Museum Xperience with VIN match option to match the previous owner's 1963 Red/Red fuel injected split window coupe. Most factory options ($10,380.00) with a total window sticker price of $67,375.00. Documented with window sticker, build sheet, manuals, books, letters and plaques from the National Corvette Museum, copy of previous owner title, and 3-ring binder. Looks, runs, and drives like new.


VIN MATCH TWIN:
1043R..1963 Corvette Split Window Coupe, VIN 8755, 327-360 hp, fuel injected 4-speed numbers matching original motor and transmission, also has factory original body/trim tag. Riverside Red paint with matching Red interior. Very rare and correct color combination especially equipped from the factory with fuel injection. Body-on restoration in very nice condition. Also has an affirmation by CCAS/Grenning as to the legitimacy and originality of the engine block, stamp pad, engine stamp and the trim tag. Special ordered VIN match (customer-selectable VIN) 2013 Red/Red Grand Sport Coupe with a museum delivery and both cars did the National Corvette Museum Xperience with Gary Cockriel at NCM. This is the only pair in the 2013 model year that was Museum delivered and the NCM Xperience was done on with matching VIN numbers. Optioned with power windows, T-10 transmission, posi, Wonderbar radio, seat belts, hubcaps, and 6.70x15" white stripe tires. Also both cars have car covers. Most all factory correct type components including the spare, jack, jack tools, clear floor mats, washer system, shifter, shielding, air cleaner, alternator, distributor, idler pulley, spark plug shields, hoses, hose clamps, hood alignment blocks, valve covers, F.I. unit, F.I. fuel filter, 6-quart oil pan, finned balancer, expansion tank, gas door assembly, long base bowtie mirror, cookie tin hood, owners manual, and sales brochure. Documented with the CCAS/Grenning Engine Stamp Affirmation, CCAS/Grenning Trim Tag Affirmation, window sticker, owner history, National Corvette Museum letters, restoration receipts, and 3-ring binder. Production date of February 13th, 1963 and delivered new by Jack Douglas Chevrolet in Hinsdale, IL. (dealer code 164 in zone 11) per the official NCRS/GM Shipping Data Report (SDR). This 1963 and 2013 50th Anniversary Collection is rare and distinguished and both share the same VIN 8755. Looks, runs, and drives very nice. Stk. 1043R

Consigned to the Mecum/Kissimmee Collector Car Auction • January 2nd - 14th, 2024


Share on Facebook
Questions/Comments? Email proteam@proteamcorvette.com


ALL CARS SHOWN BY APPOINTMENT ONLY...
Monday through Friday 9:00am through 4:00pm.
Call ahead at 419-592-5086 or email directly at
proteam@proteamcorvette.com
Corvette Black Book

Order a

Corvette Black Book

. 160 pages including a minimum of two pages for each car produced, glossary of terms, historic dates, instructions, trend graphs, Corvette chronology, and photos/specifications. The Corvette Black Book also has an extrapolation section to help you zero-in on Corvettes with genuinely rare option combinations.

This is the genuine pocket sized Corvette Black Book.

Available at $25.00 each. Plus $8.00 per item. Ohio residents add 7.25% sales tax. (postage and packaging in contiguous US).
Corvette News | Events | Tech Help

Feature Cars | New Arrivals
By joining our community e-newsletter, we will keep you up to speed every two weeks or so with Corvette related news.
We will never sell or share your information and you can opt out at anytime.
*Fill out the form below to receive ProTeam's FREE electronic newsletter and join our community, thank-you.
Click here to check out ProTeam's Corvette news archives dating back to January 2006