WE LOVE TO RECEIVE LETTERS FROM OUR PURCHASERS & VISITORS! We invite you to read our entire list of testimonials.
Here's what a few of you had to say: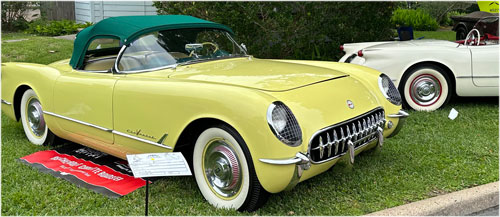 First Place C1 at the 27th annual Keels and Wheels Concours d'Elegance on May 6 & 7,2023 in Seabrook Texas.
Previous Proteam Corvette, Stk. 1033Q recently sold to Kevin Brady of Houston Texas


"Terry, Thank you for your Corvette loan that helped us make the Corvette Exhibit a huge success. We appreciate you taking the time to loan us your car(s), something that is very special to you.

...We look forward to seeing you on the campus in the near future!"
-Michael Spezia, Executive Director, Gilmore Car Museum

"Good evening Terry, What a special day for Bob and I. For Bob reconnecting to all the memories and connections that he had with you, Linda, Fred, and Christina and what a treat for me to see your current inventory of my favorite driving machines. You gave me lots to think about …

Thanks again for the warm hospitality and sharing the insights and intel you have gathered over the years. Your willingness to share is greatly appreciated. Thank you for the Pro-Team hats … we will wear them with pride."
-D.S., email 02-09-2023

"Terry, It was an honor to talk to you today. You are a legend in the Corvette world in a great way. Thank YOU very much and ProTeam."
-F.F. (past customer), email 11-10-2022

"Hi Terry, Hope all is well, I wanted to send a short message to say that the quality of the car purchased from you exceeds my expectations and the buying experience with you and your staff was a pleasure. Thank you."
-J.M., email 10-7-2022

"I watched the (Mecum Kissimmee) auction on TV, unfortunately, I can't be there. I just wanted Terry to know he has a big fan now after watching his #1 badge raise $250,000 for the children's cancer charity. Bravo Terry!!"
-D.W., email 1-14-2022

"Hi Terry, Figured I'd send you an update. After 9 months of cleaning and sorting, the car earned a 96.9 point NCRS TF at its first outing (Mostly condition points lost). This Corvette gives me tremendous joy, very proud to own it! Thanks again! "
-M. H., Midyear Factory, email 11-28-2021

"Terry, Hope all is well, firstly I would like to thank you for working with me on purchasing the Corvette of my dreams. I had a very good experience working with you and Christine throughout this whole process. Nowadays when you work with dealers you don't get the same customer service like Proteam provides. You have an old way of doing business and trust plays a big part.

I took the Corvette the next day when I got it to the Blackhawk Museum Corvette show in San Ramon California and when people saw the license plate with Proteam, lot of those guys knew of you. Thank you Sir."
-D. C., email 08-12-2021

"Hi Christine, The car arrived today and is safely tucked away in the heated car barn. Amazing condition especially for an original 67! Just as advertised! Even started right up in the cold. I am really going to enjoy this car! Thanks."
-sR. D., email 02-08-2021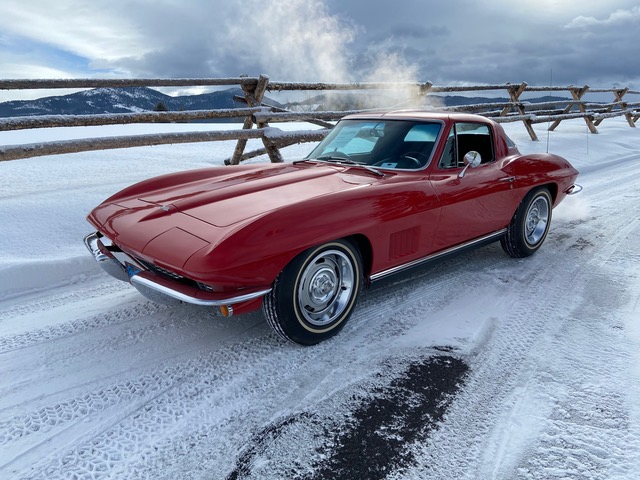 "Hi Terry, The 57 arrived Saturday morning - what a terrific piece! Thank you for working with Roger on my behalf, and for giving me the opportunity to own this great Corvette! Best regards,"
- M. H., email 10-14-2020
"Thanks for the nice letter congratulating me on the purchase of my Split Window Corvette. The letter alone shows that you not only care about the product you sell but more importantly about the customer you sell it to.

I purchased my first Vette in 1974. It was a 1969 Coupe with a rough past life. I spent more time under it than I did in it and it was wonderful. Fast forward to today and that '69 is long gone. Life seems to have a way of putting one passion aside in favor of another

Buying a collector car, especially a C2 or C3 Corvette can be a taunting at times; older cars can have issues. As you know with Corvette's documentation and numbers are the key to getting a good car. You can buy a Corvette any day of the week but you want one that's been vetted, no pun intended, by Bloomington Gold or as in my case one from Terry Michaelis and Proteam Corvette.

I bought my '63 at Mecum's auction in Indy. It was inspected by Proteam and given a CC1 rating. Along with documentation, a short history of the car and your rating, I felt very confident that what I bought was going to be a quality Corvette. It is.

Well thanks again for listening to my story, providing quality Vettes and keeping the passion alive."
- E.S., August 23rd, 2020
" I get a lot of looks and comments on the 67 rally red coupe I purchased a few weeks ago. It had documented 43,xxx miles and was mainly original including the paint. There have been a few trips to local Chevy dealership to fix some issues (I'm going to have to find a cheaper labor cost) where it gets a lot of attention from employees and customers. I'm still in a learning curve with the two-speed powerglide and the loud side exhaust. But overall I'm pleased with the car. Your dealership customer service was excellent."
- S.C., April 17th, 2020
"Hi Terry… just wanted to pass along our thanks to Christine and Billy for assisting us in making the decision to purchase the 1966 Mosport Green Corvette. Both of them made us feel welcome and spent a better part of their day answering questions, testing driving and answering more questions for us. You truly have two valued employees in the two of them. With each question from family and friends we are spreading the good words about ProTeam and your staff. Again, thanks for making one of my dreams a reality."
- D. B. W., March 15th, 2020
"Thank You! We enjoyed our visit very much and cannot say enough about the wonderful staff. Christine & Billy were so helpful and assisted us in answering questions as they related to the 1966 Mosport Green corvette that we purchased. They both sincerely showed that they enjoy what they are doing and are truly a ProTeam. Many thanks again and we look forward to receiving our car in the near future."
- D & K.W., email 2-19-2020

"Got it Friday morning and cleaned it up and did a few drives around the neighborhood. Fantastic car. Very happy with it no doubt. Looking forward to many years with it. Looking forward to many years with it. Thank you to you and your team."
- email 2-17-2020
"Hi Terry, I really checked the car out tonight. WOW!!! It is such a beautiful car inside and out. You guy's did an amazing job restoring it. It is by far my favorite mid-year color. Thanks again,"
- L.B., email 2-3-2020
"Thanks -- this was my second visit to look at your C-1 inventory -- your staff could not have been more helpful or congenial. Thank you."
- R.D., email 8-27-2019

"Brian, Terry, Sue, I wanted to thank you for your pleasant buying experience with my 1978 Indy Pace car. I buy and sell Muscle Cars as a hobby, and have done so over many years. I do have a pretty good size personal collection. The only car that I ever regret selling was my L48 Pace car. I set my replacement goals high for a low mileage L82 4 speed CB car at a reasonable price, hoping that with these parameters it wouldn't be found. The only one at Barrett Jackson this year was a poor example to be polite. This motivated me to start looking again.

I found the ad for this car in Hemmings and inquired, Brian promptly returned my inquiry and I feel described the car honestly. Usually I will do a site inspection, but I felt I could trust Brian and the pictures. The arranged shipping from Pro Team was less than my quotes and a pleasant value added option with a major carrier.

The car arrived in -10 degrees and started up just fine. The only issue was all the surface rust as we are not use to that in Colorado. I WOULD NOT have passed on the car due to this if I had inspected it in person. I have attached a picture with the Phoenix Graphics decals installed as it is how I feel they should be displayed. The originals are safe in the box."

This car is a keeper. Looking forward to working with you in the future.
-D.G, email 2-12-2019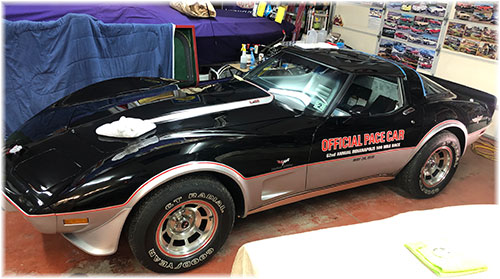 "Terry, I have to say it has always been a pleasure doing business with Pro Team!

Two out the door to Holland. A Red 1971 Coupe and a Blue 1966 Coupe. Going to good homes and to good people. "They couldn't be happier."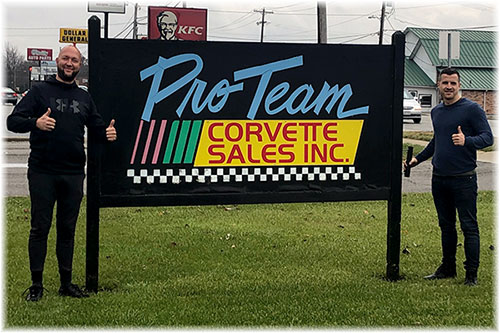 "Good morning. It's been about 40 years since I bought one Corvette from you then sold it back to you plus sold you another one before moving to Georgia. The one I bought from you back then was a 1967 427/435 roadster which you also did some engine work one it. It had the back wheel wells cut out some to fit slicks under it think it was mostly raced. I sold it back to you a long with a 1965 327/375 fuelie Glen Green coupe that had front end damage. This was around 1980. I was on the internet today and saw you were still in the business of corvettes.

I came to your place several times and have never forgotten how great it was doing business with you. My first love was and still is Corvettes from 1965 until 1967. Wish I still had one. Just wanted to say Hello and let you know after 40 years I still remember you. Have a great day."
-B.L, email 5-27-2018

"To Fred and the ProTeam members, Thank you so much for rebuilding and repairing the neutral safety/back-up switch for our 1966. This Corvette sat in a garage since 1985 a mess. It took 3-1/2 years to bring it back to life again. My wife and I touched every bolt, nut, wire, etc. You folks sure know the work involved. We enjoyed working on White Lightening. Now we enjoy driving it. We have been married over 51 years and the Corvette is a part of the family. Thanks again. "
- M. and K. F., Marshfield, MA, May 2018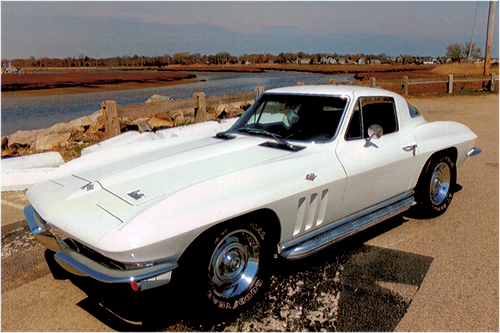 "Terry, I have to say it has always been a pleasure doing business with Pro Team!

I have to tell you a story .... one sunny day on a Saturday, late 1989 or early 1990, I was driving to work in my '67 Corvette coupe down I-44 in Tulsa to do a little catch up work. I see this guy driving a car hauling truck in my rear view mirror . In a few minutes he is coming around to pass me. As he comes around he gets even with me and I am not paying any attention to him. He honks. I look over and he is motioning me to pull over. Thinking there may be something wrong I pull off at the next exit into a parking lot. This guy gets out of the truck and I get out of the car and he is asking all kinds of questions about the car. Says he was with Pro Team Corvette out of Ohio and was on his way to Oklahoma City to pick up a '63 Vette. ( at the time I had not heard of Pro Team). He then asks if the car is for sale ? Well it wasn't, but after talking to him for a while I told him I would consider selling but would have to be cash because I didn't know who he was or Pro Team. He said he would make some phone calls, go to OKC and pick up the '63 and give me a call. Much to my surprise he calls me a day or 2 later and has the cash in hand and the deal was done.

Fast forward to 2001 when I bought the '65 from Pro Team, the sales person was great to work with and the over all buying experience was wonderful.

Now , 17 years later, when it was time to part with the '65 , you again made the Pro Team experience great ! Thank you! "
- J. B., email 3-27-2018

"Good day Terry, I bought the Goodwood Green 67 recently. I LOVE THIS CAR. I wanted to thank you for your help in this purchase, great car as described. Thank you and good luck in Florida."
- M.N., email 1-2-2018

"Terry, Thank you for helping Lou, Jr. The Cicconi's and I thank you very much for your help and your exteme generosity!"
- D.M., email 4-7-20c17

"I was just speaking with one of my customers who is also a Corvette enthusiast (and wanted to sell me his 67 Big Block) and he had nothing but good things to say about Pro Team. Nice to hear. "
- T. G., Monsieur Touton Selection, email 1-25-2017

"Hi Terry: Thanks for all of the great pictures. You have just personally extended the book from 250 pages to 300. Thanks for so many photographs. It gives me a lot of editorial options. Your photos will definitely add to the quality of the book. Again, thanks for taking so much of your time and for your support of the project. Best regards, "
- G.K., email 9-16-2016

"I just wanted to express my thanks for all that you did to help me work through a tough problem with my beautiful car. The treatment, counseling, and genuine care of the customer (me) is why I buy cars from you. I felt bad having Billy turn around and disrupt his Friday, but he did it and helped me get home. I also had a very good "teacher" of how to disassemble the fuel delivery unit to free the float— which enabled me to ultimately go back and do this again— and to look at why it sticks. I was a student and now still a novice on the system, but at least understand the principle operation of it from him. This is priceless for me. Terry I know I was frustrated, but I love the car and did not want to give in on getting it right in my garage. I did-- but only because Billy made the trip. Sorry for wasting his time with all of it, but he is a great mind and a great guy. Words cannot express how thankful I am. I took my wife out in it last night and it was magical as I knew it could be.

Thanks so much for hanging with me—a customer for life—"
- M. R., Exec. VP Global Product Development, Purchasing, R/D, Design GM, email 8-1-2016

"Bought a '67 from you over 20 years ago, sold it a couple of years ago, for about 10k more than I bought it for, Your resto mod is beautiful, Love it"
- J.S., email 7-26-2016


"(Terry) Thank you very much for the beautiful cars. Looking forward meeting you in August!"
- A.B, email 6-13-2016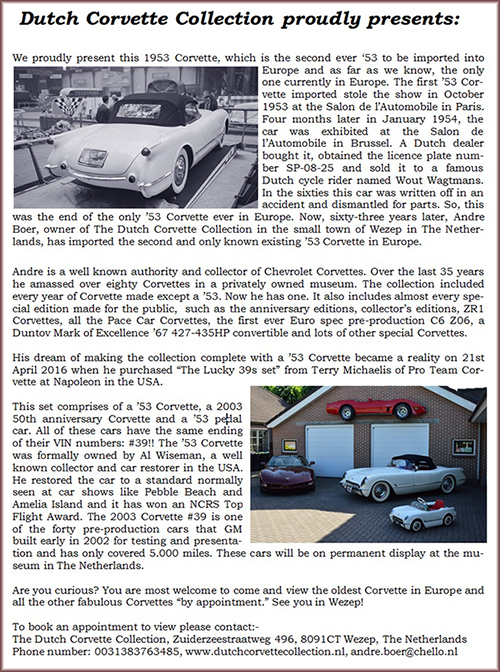 "I am very impressed with your new approach to inventory you have so eloquently stated on you website. As well your explanation of the 2008 ordeal that left so many in pieces… most of us just viewed it as part of the journey that affords us a lifestyle… like being on the hunt and collecting things of value but (few see) the determination and pain that are as big a part of success as the rest.

I bought from you in the first place BECAUSE I had heard people in the Corvette world refer to you as a survivor, some hated you, some loved you, but all respected you, some for different reasons than others. But respect they did. I knew that you were the kind of person that I would know right where I stood and you would always be there in some form or another. This made doing business with you a very easy decision. Al Grenning was always complimentary of you as we spent a lot of time together for those years.

Thanks for reading my extra commentaries. I felt compelled to take a little extra time to express some recognition of you and what you have done for me and how one of your customers feels about you and your legacy. Warmest regards,"
- M.H, email 6-8-2016

"Hi Terry, Came home early to check out the car. It is like Xmas today--ha. Drove around the block this a.m. after it came off the truck. Motor runs good and everything works as described. Car is in great shape as you said; few very minor nicks but expected after 10 plus year resto and I will be adding to this with driving it some. Having a Scotch and cigar in the garage staring at the car."
- B.M, email 5-6-2016

"Terry, I read the Mecum article and it was great. Thirty years ago, I would have never guessed that you would become one of my most admired people in the collector car community. You have. And you deserved it. I am very proud to say that you consider me a friend. I think very highly of you and this article is rightly written. Congratulations not only for what you have become, but more importantly who you have become. I consider you one of my best friends. Best always, my friend."
- D.B., email 2-26-2016

"Awesome Terry! Must admit that I have been impressed with each and every person within your organization. As a former President and CEO of a real estate development, commercial general contracting, and property management firm, I fully recognize the importance of customer service along with meeting and exceeding expectations of clients. At this point, I have communicated on several occasions with you, my sales person, finance, shipping, and shop personnel. All have been wonderful people with great attitudes and passion for their work. You should be proud of your organization."
- M.B., email 2-25-2016

"Terry, Had a great time Saturday at the seminar. Ken brought a lot of very interesting things to the table. Would like to have time to check out some of Noland Adams stuff. It's nice to know there are some old double-digit guys around. Thanks again for a great day."
- H.B. & J.G., 11-20-2015

"Hi Terry, I wanted to express my thanks for the excellent seminar at your facility on 11/14/2015. The presenters were all very knowledgeable and entertaining speakers. I truly was on the edge of my chair during each presentation. I try to attend each year as my schedule allows, and I do enjoy the drive from Maumee to Napoleon and back in my Corvette.

I also enjoyed the brochure I picked up at the seminar on the NASCAR Corvette. It shows that you are a very accomplished automotive archaeologist. And that brings me to my next thought:

I think an excellent topic for next year's seminar would be "Terry's Top Ten", where you discuss the top ten cars of yours that in your opinion had the best stories relating to obtaining them, restoring them, and/or researching them. Even if you don't like to be a public speaker, I can pretty much guarantee that all the attendees would likewise be on the edge of their seats during the entire presentation. I hope you will say 'yes' to the idea. Have a great holiday season.
- W. S., Maumee, Ohio, NCRS #32935

"Thanks Terry for allowing a big batch of old car guys into your great facility in (warmer than Michigan) Ohio. Today, I put these words on Facebook, along with a link to your web site."
- T.D., Lapeer, MI.

Via Linkedin: "Hi Terry, I wrote this recommendation of your work that you can include on your profile. Enjoyed a visit to your showroom/museum this summer. 'Terry and Proteam are the gate keepers for most of the iconic corvettes that were produced. They manage to maintain an ever changing inventory of historical cars achieved by no other.'"
-Thanks, G.H, 9-24-2015

"Terry, I appreciate you taking the time to work with us… the very first Vette we bought from you was a Black 57, with silver coves and red interior. It was a non-numbers match fuelie that stole everyone's heart. And it started off our very prosperous journey with you.
We just now got the final figures on the prime 67 you sold us last year. And I'm tickled to say that it amounts to a $1500 scholarship for every student in our little school. I hope that you appreciate how much this fundraiser means to us and that you are a big part of it. Thanks again."
- G.S., St. Bernard Classic Corvette Raffle, email 9-18-2015

Gene, we are honored to be involved with your fund raising campaign and hope to continue to earn your trust and friendship. Your scholarship news is fabulous! Regards, Terry

"Hi Terry. I want to thank you for spending time with me in Monterey and getting me in into all the auctions. I learned a lot being with you and appreciate you letting me tag along. If you need anything from me just let me know. I will see you in Carlisle and again thanks."
- Tony, Gaithersburg, MD, email 8-15-2015
"Terry, Just a quick note to say thank you for taking care of our "to do list" on Jeff's '63. I haven't seen the car yet, but he's now had it for a couple weeks and is quite happy. I'm sure the work you did was top notch. We're much obliged. Best regards,"
- D.B., email 8-18-2015
"I bought this Corvette from Proteam in 1997, and over the years completed the car. Terry asked that I send pictures when it was done, and I was happy to agree. It took a lot longer than I had expected, but the car is basically finished. Here are a couple of before and after shots. The car has a 13.5:1 balanced, full roller 355, a Richmond ROD 6 speed, Vette Brakes' Performance Plus front and rear fiberglass mono-leaf suspension, power 4 wheel disc brakes, power steering, and Colorado Custom billet wheels. More importantly, it's a blast to drive and pretty unique. Thanks for a great car to start with! Evan"
- E.W., Facebook 5-23-2015
| | |
| --- | --- |
| After | After |
| Before in 1997 | Before in 1997 |

"Terry, Thank you very much for the free book about #E53F001211. Very interesting. I really enjoyed it. Kudos to you and your staff for digging out all the info and restoring it to as raced trim. Thanks again."
- B.B., email 5-13-2015

"Hi Terry, At Charlotte I picked up a copy of The Untold Story. I have always liked the car and over the wk'nd I read your article...it is well written and an excellent document of history; you are to be proud of this written work. While I have judged several of your cars, I never thought of you as an author. Among other things, I am a retired university professor and author and this note is to commend you and give high credit to your written work. I am very proud for you. You did good."
- Dr.G, email 5-11-2015

"To Terry Michaelis, I just received your beautiful book about Corvette #211. Your thoughtfulness is much appreciated. You took the time out to share the history of this fine vehicle with me. I am 70 years old and have been in the car hobby since I was 5 years old and nobody has ever done something like this for just sending postage. You are truly a kind giving person. Much continued success in your career. God Bless. Truly, Sergio. PS: Your associate Sue was very helpful and accommodating."
- S.G, personal note 4-27-2015

"(Terry Michaelis) Just like to thank you for working with me on the 63 SWC. I do love the car. I would of like to meet you but that didn't happen. One more thing, Chad was a big help. Again thank you. I am glad I found ProTeam Corvette."
- J.G., re: NC 63 Vette, 4-17-2015

"I bought a 1967 Coupe from you in 1996 and can proudly say I STILL HAVE IT! It has been a wonderful vehicle and a great investment over the years. I still get a real joy out of driving it and showing it off. It never fails to get "thumbs up " when I drive it! I see you on TV at the auctions and fondly remember my visit and business dealings with your company."
- H.P., email 3-04-2015

"Thank you so much for taking the time to meet with my wife and I today. We absolutely enjoyed our visit and will return. Have a great weekend."
- B.M., email 1-30-2015

"I just want to thank you for working with me on the purchase of the '63 Vette. You made this a nice experience. One more thing, Chad made this a very good transaction. Thank you."
- J.G., email 12-30-2014

"Chad, We received the check today for our broker fee. I just wanted to thank you and the team at Proteam. The transaction went smoothly and Cory and I are happy with the car. Thank you very much."
- M.D., Costa Mesa, CA

"Dear Terry, Special congratulations are in order my friend! I was thrilled to see you receive the recognition you deserved during Bloomington Gold this year. It was a true treat watching you be inducted into The Great Hall during the event. I especially enjoyed the speech you gave promptly following the honors; each person chosen was full of enthusiasm, especially you, and it showed why they deserved the extraordinary recognition.

You did a wonderful job and I wanted to commend you on not only a job well done, but for being a leading force in the Corvette hobby. I'm certain my father was looking down with that smile we all miss so dearly. Keep up the good work! Life is good,"
- Lance Miller, 7/29/14
"Dear Terry, On behalf of the Convention Staff of the 2014 NCRS Convention and the NCRS Board of Directors, I would like to send a sincere thank you for your sponsorship… the event was hosted by the Kansas City and St. Louis Chapters of NCRS and Overland Park Convention Ctr. Thanks to your sponsorship we were able to welcome over 520 registrations and over 1250 attendees with a memorable Welcome Reception, a tribute to NCRS members and veterans. Noted restorer Kevin Mackay helped me secure over 15 historic race cars for a special display. Thanks again for your help in making this Convention one of the best in years, Sincerely,"
- Chairman Dana Forrester, 7/28/14

"Our 1964 Corvette Resto Mod is in final assembly. This car has a street shop chassis, LS7, 5 speed, and modern suspension. Thanks to the amazing team at Proteam Corvette for doing another amazing job."
- M.P., Post Automotive, LLC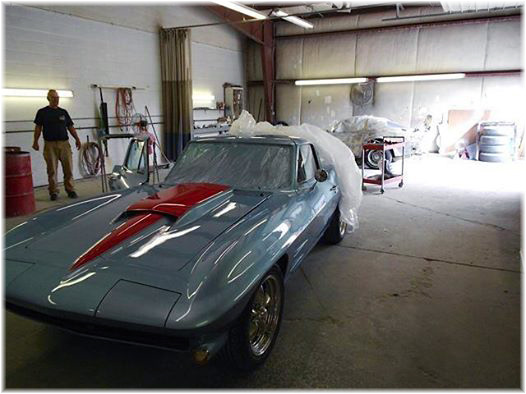 Terry, The Gold Family extends our gratitude for recommending that Bob Gold Auctions be inducted into the Corvette hall of fame. Bob would have been proud to know that you were the one that pushed behind the scenes in honor of him and his work. He was passionate about corvettes and most importantly the dynamic interactions that occur between people from all walks of life all centered around the cars…. minus the assholes of course. Keep up the great work that you do and congratulations on being inducted yourself. We are lucky to have you because as you know we are a little wet behind the ears ;-), Cheers, Andrew
- A.G., Los Altos, CA
Christine, Terry and crew: While I know I have not picked up the car yet, I wanted to take a few minutes to send along a thank you for getting this done. I have bought cars on 3 continents in 4 different countries, and in a number of US states. My current collection ranges from humble Lancias from the 70's, Renault Rally cars of the 80's, European Cult cars of the 80s and 90s and up through a series of Enzo era Ferraris that are becoming too expensive to drive. I have tracked them down in warehouses in Houston, little garages in Italy, Dealerships in England, and sellers in Japan and Canada. However, no Corvettes. Avoided them for many years, too common, too many, too many stories. Fakes, copies, tribute cars, you name it. Everything a solid "collector car" is not.
So one day I decide the only true American Cult car of my era would be a Split window.
To further complicate it, a Fuel Injected one was the car of the era, Route 66 and all. Normally my searches start, a brilliant car falls out of the sky at exactly the right time and all is happy ever after. Then we come to Fuel injected Corvettes. (Fake) car after (fake) car after (altered plates) car. Big Tank cars that never were, "fuelies" that had the Fuelie badge waved over them one week. What a mess this market is.
And then, by magic, a car appears, seems real, and is suitably not perfect, a driver not a show queen. A brief email to Terry strikes his fancy, and it all flows smoothly
.
Deal done, happy customer, lovely example of the breed; the envy of the guys in the over-restored too perfect Club
.
Thanks, the most complicated search for any car in the collection made rewarding because of each of you.
- P.D., Chicago, IL
I want to move up to a C2 vette. I purchased a '59 vette from you years ago and you treated me excellent and I was happy with the deal. That is why I want to deal with you. Thank you,
- C.M, email 4/30/2014
I bought (from
ProTeam Classic Corvettes
) last October the 1960 corvette. The car is now ready with its old 1960 trailer; I think it's the only one in France. Best regards,
- Rochais JL, on the road in France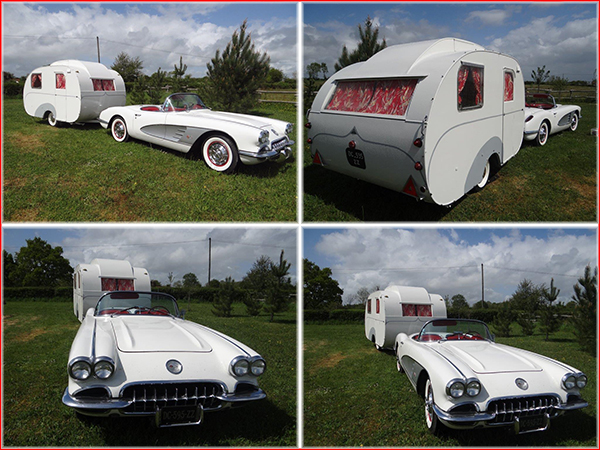 Received car on Friday. It's beautiful. Really nice.
- B.C., Austin, TX
Dear Terry, Thank-you kindly for holding-up to our agreement on distribution of profit from the sale of the 1959 Corvette, you are a person of the utmost honesty and integrity. It is no wonder that you are very successful in your business ventures. The world needs more people like you! Again, my heartfelt thanks and appreciation goes out to you. Respectfully yours,
- P.K, 2-5-2014
Here's what a few of you had to say:
T.C., Wanted to take the time and write what a pleasure the gang at Pro Team has made buying our Corvettes, (2001 Coupe, 1966 Coupe, 1970 Convertible). My wife Judy and I have been a customer of Pro Team since 2006 and have enjoyed the professional service offered by the company. I assure you we'll be back for number 4 soon. Thanks, Jon
- J.W., 12-9-2013

Mike, I made it home with no problems about 11pm. 900 miles makes for a long day! I am very happy with the car! The only thing I have found wrong is the turn signals don't work. But the car is as good or better than you described. Again, I appreciate your assistance and cooperation. Merry Christmas, Ken
- K.S., email 12-5-2013
Loving the car. I got to send you some pictures. It is so great. I take it out at least 3 to 4 times a week driving down Pacific Coast Highway. People are in absolute awe when they a see this car. I referred some friends to your site, hope all is well withy you. Best Jimi
- email 11/15/2013

I actually had been looking at the yearend sale items since I got the general email. I like 1067E and of course I considered it when I bought the little 250 HP car. I really like that silver/blue car. Jay took out the carburetor and it had a split in the float valve. We got that repaired at a radiator shop and got it back on the car and right now it is running great. Better than I thought a 250 HP would run. Thanks for all of your help on the car, it was just like you said it would be.
- J.B., email 11/14/2013

Terry, Just wanted to thank you once again for selling me my 1960 Corvette in 2009! The car had another great year, and once again (for 2nd straight year) won Best Corvette at the Larz Anderson Museum's American Car and Truck Day in Brookline MA. I've done a few minor repairs to it but by and large it's only required regular maintenance. The car continues to be a show stopper at any cruise night or local show that I take it to and has won at least one award during each of the 4 seasons that I've owned it. Thanks again for making it possible for me to own this wonderful classic,
- J.C., email 10-11-2013

We really appreciate Proteam for making the purchase of our '62 so easy. Everyone we came in contact with at Proteam was absolutely wonderful to work with. This was our first car purchase without physically seeing the car. To our pleasure, the car arrived as promised and was exactly as described. Currently we have a garage full but are contemplating another - a '57 or '59. We haven't made up our minds yet. But rest assured we will be talking. Thanks again for all of your assistance. We look forward to working with you again.
- John and Sherry, email 9-23-2013

Good afternoon, Christine! Hope your Monday is going well and setting precedence for the rest of the week! Please find our signed acceptance for the 1962 Corvette. The delivery went smoothly; we were impressed and extremely pleased with Reliable as the carrier and with the driver, Manuel Rodriquez. With that said, we want to let you know we are very pleased with the vehicle - we are happy to say she now has a home with us! We have begun learning about each other and our respective quirks! We all have those quirks - be they human or mechanical, whether we want to admit them or not! Thank you so much for all your help in making this happen - you are all a dream to work with! Kind regards,
- S. and J.B., email 9/1/2013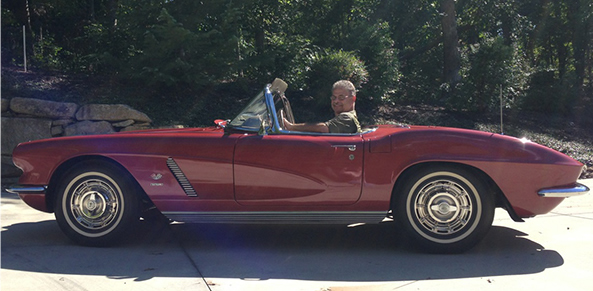 The Delivery of this lucky 1962 Corvette to its final destination
I sincerely appreciate that you were part of Saturday's Celebrity Luncheon and helped participate as a celebrity judge. This is a very special part of Corvettes at Carlisle. Our participants are thrilled to have their cars chosen as a favorite by someone who knows and loves Corvette as much as they do. Our event simply wouldn't be the same without our celebrity participants. You were an integral part in making Corvettes at Carlisle a success and I wanted to personally say thank you. Your support really helped make this year a special one. Life is good! Sincerely,
- Lance Miller, 9-3-2013
subject: STREET URCHIN, Hi everyone - Jan and I want everyone involved with our 63 to know how pleased we are with both the car and the delivery- We will have time to start driving it later on this week - Something of an involved project completed and done well!
- email 5-6-2013

A picture worth 1,000 words. Another Happy Customer - M.H. February 2013...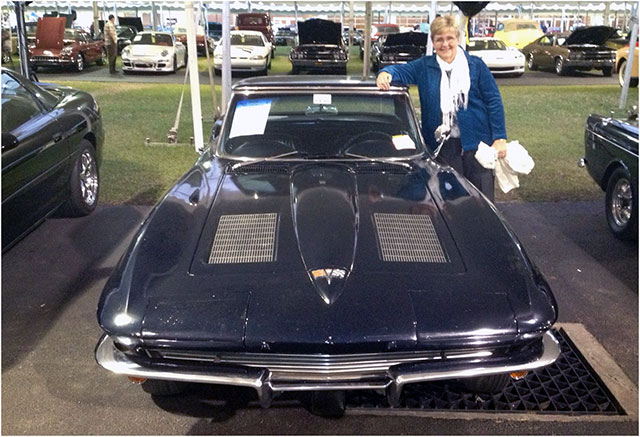 I grew up in New York City and nothing against the city but you have to be skeptical on who you trust. Mike is so honest that when I had the car inspected and the inspector gave the tires a fair rating, I offered to have ProTeam put new tires on at my expense. Mike convinced me that even though the tires were a few years old, they were like new. Once I got the cars here and contacted the previous owner, I found out the tires were only used a few times. Someone else would not have been so straightforward.

In fact, I like Mike's way of doing business so much that the next car I buy from you, I'll do the 48-hour guarantee. I like having the inspection done but have realized I was almost talked out of the car over small issues. If I ever do a trade with you, the car will be just as good, if not better, than I received it.

It's been a pleasure doing business with you and good luck with those awesome cars you have. If I was Jay Leno, they would have been sold already. Best Regards,
- D.D., NYC

Hi Terry, Thanks a lot for your package - it looks great. Everybody was very pleased to see the gifts, and we impressed by your kindness and help. If you ever stop by Denmark, please let me/us know, we´ll take care of you. Thanks again.
- K.N., Denmark Corvette Club, 1-12-2013


Dear Mike, The Corvette I purchased ('66 427 Corvette Convertible) has won The Kuwait Corvette Club 1st Place award (C1, C2, C3). The festival was sponsored by Historical, Vintage, & Classic Cars Museum et al. The car also won 2nd Place as (C1-C6) voted by spectators. Thank you ProTeam and thank you Mike. Regards,
- A.A., Kuwait 12/17/12

Hi Beth, The Michigan Chapter NCRS Members wants to say thank you for all that you did making last Saturday's Event a successful one. We had a good time and thanks again.
- H.J., Activity Chairman, Michigan Chapter NCRS
Hi Fred, I want to thank you for taking the C1 in tow and bringing her along in the way you did. Please thank Billy also. The extreme care and attention you two put into this project really shows. The old girl will be a lot better off for your efforts and she got worked over by people who are experts on the C1 cars. Thanks Again, MDH
Terry, You have two of the most recognized brand names in the Corvette world—Terry and Michaelis. Say either one and people know exactly what it stands for: Corvette, Experienced & Wise, Street smart business guy, Knows good stuff when he sees it, Sometimes intimidating, Passionate about preservation, Wants to make a difference, Pioneer, Legendary, Celebrity, A survivor!... and there ain't no one else even close. (But a few insiders also know you are kind hearted, much softer than you want people to think, crazy about your little girl, and would help your friends if they needed real help.) - David
David, I wish I had had a brand! I did before Bush and Obama Washington types robbed us! And if you do a good job selling you and your services, you may even get some bizz out of it, but you will have to be up on your game and on your feet! Let's take this blank piece of paper given to me by NCRS and give them an experience in excellence. My 2 cents! I will buy din-din Friday night for you and Rick. Regards, Terry L. Michaelis
2012 Seminar has Corvette people talking: "Even though better sense would dictate absolutely no travel NORTH after October 15th of any year, it would be a pleasure to meet Tuttle. In on the 9th out on the 11th? Your gesture to the under 30 crowd is excellent. (L.Lundberg)"… "Looking forward to the workshop your offering. I'm always a kid in a candy store at your place. Thanks for helping me stay young. (M.Mills)"
Terry, I want to thank you as well as Christine and Sue for the prompt and well-packaged consumer information manual. It was received without issue. Thank you again."
- S and A, email 10/14/2012
Terry, I don't know who is "next biggest" in available Corvettes, but your garages full of series of Vettes was very impressive to me and my friend [both of us from Tenn.]. Hate to see your selling down the "collection", but I understand. You've got to do what's best for future success. Satisfied customer,
- H.W., email 6/24/2012
Hi Terry, I'm the customer who purchased the 1973 corvette from you. All I can say is WOW!!! I was apprehensive about doing business out of state and sight unseen but after much research and inspections at other car places, I came across your business. I just want you to know you not only know how to pick the best Corvettes in the business, you have some of the best people working for you. Mike, Sue and Christine are patient, proficient and extremly professional. If I had a business such as yours, I would want this team. The name Proteam suits you guys well. I'm honored to have done business with such honest people and look foward to doing business with you again someday. Best Regards,
- Dan, email 5-3-2012



Dan, Linda, Duane, & Dan's new baby!
Hey Mike, I'm sure Dan will be in touch, but I want to thank you for your professionalism and customer service in this process. I've been to look at a lot of Corvettes at a lot of dealers and you guys are the best. Your knowledge of the cars, your candor and advice are unique and greatly appreciated.
- M.O'D.

New Engine Stamp Standards: Terry, Thank you, for being one of our first sounding boards in the development of the New Certification Standards.  As THE person with the most street knowledge of the average Corvette owner/buyer/collector, you always give your honest opinions and insights and never hold back to be politically correct.  For that, we can always trust you to provide unvarnished insights and even though we may not always agree, we will always respect your views as being based in decades of experience.  My experience has been that you are right far more often than not.  I personally value you as a unique personality and as a professional in our industry.  I am happy to call you one of my best friends.
- David Burroughs, Bloomington Gold

"Fred, you may recall that your company did some mechanical and interior work on my '65 Corvette last April thought June. The work you did is great and I've been enjoying the car... One thing I'm especially please with is how well the car starts and runs and the interior is great. I get a lot of 'thumbs up' and other admiring comments from total strangers. One guy wanted to buy it on the spot! (I did not sell it!) I always tell people about your company and the work you do. Tell them (the guys who worked on my car) I appreciate and admire their hard precision work."
- K.H., January 14, 2012

"Hi Terry, I bought a '67 Corvette from ProTeam (311Y). I'm very happy with the car, it looks and runs great and is a blast to drive. I've received a lot of positive comments and many waves on the highway. It also looks nice in the garage next to my 2005 C6. My ProTeam experience was very positive. Sue Cooper was fun to work with and made the purchase experience very easy for me. If you make it to Scottsdale for the January auctions I hope to run into you. I live in North Scottsdale just a few minutes from Barrett Jackson and Russo Steele. All the best for a great holiday."
- J.N, email 12-12-2011
"Hi Terry, I am sending back the judging forms for your '67 as promised. Also please accept a couple of our ranch hats and a 2012 ranch calendar. I enjoyed working with you, Mike, and Sue on buying the car and getting it our here. I will get it cleaned and polished without changing it in anyway. Please keep me in mind for another top ten survivor car, especially. C1/C2. Best Regards, Jan"
"Good Morning Terry, The car arrived yesterday and I wanted to get right back with you and let you know that you won't be getting it back!  It is really a wonderful original car and has found a good home at "Engwis Ranch", right down the road from where it started out.  I should also say that I enjoyed working with you on this, and appreciate your expertise and integrity.  Also, Sue is a great asset to Proteam and was very nice to me whenever I called! Mike said he was working on getting the brief video on the car.  It would serve the car well to have your picture and representation of it for posterity. I hope we can work on another deal to preserve a special car someday.  If your ever interested, Montana isn't a bad place to hide out for a few days now and again; at least that's what I said eleven years ago and haven't left yet!
| | |
| --- | --- |
| | After watching the video, I wanted to let you know how very much your effort means to me and how important I feel your commentary is to the credibility of this car. I also want you to know that your confidence in my stewardship of this car is not misplaced. I understand the reverence such cars deserve and the importance of preserving their heritage. I am honored to have this car in my care. I just don't  buy a car, I "adopt" it. That's really what it's about....the car itself and its legacy preserved.  I will clean and detail the car to exemplify its originality, but will not alter it in any way.....other than have the window chip repaired, |
which I have found can be done quite successfully. Until next time, if I can be of any service to you whatsoever, please do not hesitate to contact me. I will also keep you in the loop on any interesting developments or information on this car. After all you will probably want it back after my eventual (hopefully very eventual) demise. Thank you very much again. It's nice to know that there are still some people who do exactly what they say they will do, and it was an honor doing business with you."
- J.E., Montana
''I can tell you that we have developed a level of trust and confidence with you guys and the feelings are mutual. By the way, you might like to know that since we started this 24 years ago, St. Bernard has netted probably 1.75 Million dollars and we really didn't catch fire until we started working with you guys. We have a little school (that is the oldest in our diocese) and it would have went away years ago without this funding. It is safe to say that today it is reducing the cost of sending a child to St. Bernard School by over $1000. a year.  So we appreciate what you guys do for us. Thanks,"
- G.S., St. Bernards Chuch, Rockport, IN

"Terry, I just wanted to take a moment to tell you how much I enjoyed talking to you the other day at your store. Thank you for taking time out of your busy schedule to visit with me. A real Corvette fan could listen to your stories all day. Really neat. You have some absolutely breathtakingly beautiful cars in your buildings, not the least of which are the Cascade Green '57, and the Marlboro Maroon '67. As astounding as your web site is, I still tell everyone in Orlando that if they're ever in the area, be sure to stop in for a personal visit, as the cars are incredible. You and ProTeam are pillars in the Corvette hobby and business. I hope to see you in Orlando this winter - email me if you want to have a beer."
- Rex, email 7-15-2011

"Hey Chad, I really wanted to thank you for the EXCELLENT CUSTOMER SERVICE, communication, straight shooting and strong salesmanship in my dealing with ProTeam regarding the 66 Mosport car. It is refreshing to talk with someone who really knows what he is talking about, points out he doesn't know when he doesn't know and gets answers when a customer has questions. Awesome. The entire process was a pleasure, especially touring the facility, hearing your anecdotes about each car and test driving the '66. I'm still hunting (but a little busy at work now) and will stay in touch. You are a credit to your profession my friend and raise the bar very, very high for any of us involved with Corvettes."
- M.R., email 9-21-2010
"Terry, I sent you an email a few months ago about an old Chevy pickup I bought from you way back when you had your small lot on old Rt. 24. Well, last Saturday I came to your shop needing a part (which you don't stock), but instead of leaving your shop upset that I couldn't get the part, I left very impressed with the willingness of your two employees go out of their way to help me out. They didn't make a dime off me, and easily could have pushed me out the door, but they both took the time to talk to me about my problem, and give me a catalog from one of your suppliers who just happens to stock the hard to find item, which I subsequently have ordered and am now waiting on. Thanks to you and your two employees, both of whom were quite busy at the time, but still took the time to help me. This is the reason why tons of people consider you and Proteam the #1 'Vette shop in the Region. Thanks again,"
- J.D., email 8-30-2010
"It was a great pleasure ten years ago when I bought the '60 from Proteam and it was a pleasure dealing with Proteam selling them back ten years later. Tom West is a super guy and the name PROTEAM fits you and all the people that work for you. It was really great to finally be able to talk to "The King of Corvettes" after dealing with you guys for ten years. I plan to stop by in September or October to see Chad and buy him lunch and check out the inventory. I may just have to buy 1 to replace the 2. Chad and Donna would always talk about family and kids while I crawled under all the cars. Her and I had a lot of great times at Proteam and Chad was never a salesman he was just a real good friend."
-J.J., emailed 8-23-2010
"Terry, I want to take this opportunity to thank you and your crew for providing us with a very enjoyable visit to your Corvette dealership. I especially want to thank our guide who was very helpful and patient with our endless questions. Many of the people in our group were wondering why are we going to place which sells Corvettes, but after having visited were very happy that they had done so. Maybe sometime in the future I will be able to do business with you. Thanks again for the opportunity."
- L.S. and the group from Southern Indiana Wheelmen
"We sold the final ticket about 2 hours prior to the drawing….the very first time we have sold all 10,000 tickets!! So, it was a great success! Thank you so much for your help with the blogs. It seems that we had some great cross over with the electronic newsletters and email blasts. Our winner is from Ohio. This was probably the best car we have raffled….we hate to part with it. Thanks again, Dave."
-St. Bernard Parrish Raffle, 7-2010
"Hey Chad - a big thanks to you for taking the time to educate and inform this Canadian on all things Corvette....much appreciated and a dream come true. I must admit I fell in love with the two '63's (light blue and dark blue) and of course my favorite the '66 coupe with white interior. My preference is to find a '63 - '67 coupe in an interesting color combo interior.…let me know if something comes across your floor like that and I will make the 6 hour drive in an instant. Once again thanks for the Ohio hospitality. Cheers"
-M.J.A. - email 3-10-2010
"Hi Chad, Well, the car's arrival caused some excitement in the neighborhood. I waxed, polished, and detailed the coupe. I missed lunch and I was awfully thirsty but could not stop. I suppose I will have to join buffers anonymous to kick the addiction. It is a wonderful addition to my collection and I am proud of it. Any serious collector should have a split window. Stk #1064A is happy in its new home. It is pampered and cherished. Thanks Chad!"
-M.M, email 2-18-2010
"Dear Mr. Michaelis, I bought a 1963 Chevy pickup from you back in 1972 when you had a small used car lot on Rt. 424 on the east side of Napoleon.  It was just an old beater and you told me if it gave me any major problems I could come back and Kick you're a--. Since then, I have seen your business grow, and just recently I have been hooked on the Barrett-Jackson Auto Auctions on SPEED-TV, and twice I have been surprised by seeing you successfully bid on a couple 'Vettes, and checking out some others.  I have listened to the commentators on the show speak very highly of you (Mike Joy in particular). Among auto dealers, it is very decent to see one of our local guys  so highly respected in the field, and to be thought of so highly by "celebrities" of the auto auction world. And to think I actually had a chance to kick your behind.  I'm glad I didn't. Congratulations to you, Terry, and I hope your business continues to thrive. Best wishes to you in all your endeavors."
- email 1/27/2010 from J.D., Custar, OH
"Hi Mike! This is 'almost had a heart attack' Bill saying THANKS! I was very happy with the way you went about selling me the car. You were not pushy. You made me feel like you were really interested in making a sell. You answered all the questions that were asked and when we asked to put it on the lift, no problem. You made it easy. Thanks again. I will get with you soon on the delivery. Thanks again."  
- B.P., email 12-10-2009
"The fabulous '57. I've been meaning to email you guys ever since the 57 showed up and tell you what a hellava car you shipped us. We love it and if it don't sell tickets we're in a depression not a recession. I know that times are tough and hope you guys can keep your heads above water until it gets better. We will do everything in our power to send business your way. Again, Thanks."
-G.S., email 11-18-2009
"Hi Chad, Thought we would drop you a note to let you know that we traveled safely and got the car happily back into Canada. I have spent an enjoyable few hours going through the book of documents you provided and am pleased to note that one of the last owners put together an extensive ownership history. I am really looking forward to having the car out here in BC and doing a bit of driving. Thank you again for the personal service and the care you took to make sure that we were happy with what we bought. We had a pleasurable time at the border - were able to clear US Customs without a problem. Thank you for sending all the requisite information. Hope winter does not have you in its icy grip. Kindest regards,"
-A.S., British Columbia, Canada
"I have been enjoying the car. We have taken several road trips through the back roads in northern Michigan. Lots of beautiful views, small towns, and winding roads. Without exception, every time we stop we get many great comments, and many 'thumbs up' by others as we are driving. I have also won several 'Best in Show' awards. Thank you for your help in making our purchase such an enjoyable experience. Since we got back to Traverse City, I have converted one of my free standing garages into a 'showroom' for the car. I'm looking forward to doing more business in the future."
- D.L., Traverse City, MI
"To Brian Topp, Got my 1960 corvette yesterday and it was perfect. I am very satisfied with the car thanks for making it easy."
-S.S., email 8-5-2009
"I flew in from Florida to purchase a vehicle from your Company but when I got there the car had been sold. Your Saleman, Eugene Topp, tried every effort to find me another car but there was none like the one I was looking for. Eugene was kind enough to the take me from Napoleon to the airport in Detroit because I could not find a car to rent. I feel he went way beyond stepping out of the box to help a customer! I did find the car I was looking for in Detroit but want you to know that when I am looking again, I certainly will check with Eugene."
-D.D., email 7-23-2009
"The Stingray is sweettttt! I am very happy. I can't wait to drive it. Thanks again for helping me find a nice car and for the fast delivery. If you ever get down this way, give me a call so we can have lunch."
-N.M., email 7-23-2009
"I want to thank you for all the work you put in to get my 1954 Corvette delivered from ProTeam. Please pass on my thanks to Terry and Mike. Everyone was very helpful. The '54 arrived in perfect condition and I look forward to many happy hours spent keeping her that way. I think ProTeam has a great selection of cars. You have some really good dedicated people working there are really nice and know Corvettes well. You can tell they love old 'Vettes and enjoy working there. You have a few cars that are just awesome. Someday I hope I can buy the Bounty Hunter. I enjoyed seeing ProTeam. When I walked into the C2 building, I lost my breath and could not believe the sight before me. It is something all Corvette lovers must see. I bought two cars from you so far and I sold you one car. We have done $620,000.00 of transactions so far and I didn't think it will be the last. I think you are a good person and your word is good and I look forward to buying more cars."
-R.H., Moorestown,NJ
"Alexis and I would like to thank you for the many hours (I figure approximately 20) you spent with us during the search for our perfect Corvette. We were overwhelmed during our first visit - single axle vs. mid-year, yellow, blue, white (or green), small block vs. big block. Your patience and knowledge, and the large selection ProTeam had available, allowed us to define what we really wanted and concentrate on three cars during our second visit. The 1966 white convertible is exactly what we wanted - a weekend high end "driver" in excellent condition. You listened to our concerns, led us in the right direction and your knowledge of Corvettes was a deciding factor. It was a pleasure dealing with an old car guy. Thanks again."
- J.J. & A.J., Martinsville, NJ


"Brian (Topp), you are a unique individual. You took a situation that would have ended bad for all parties and turned it into one that has gained the respect and admiration of one of your customers. Word of mouth is a strong thing and because of you and your persistence, I'd have nothing bad to say. From one guy to another, thanks."
- S.F., 5-28-2009

| | |
| --- | --- |
| | "Chad, I just wanted to say I love the car. Thanks, for all your help and time that you spent with my Son and I. We had a great day picking out our cars; a day that I will never forget. Please tell all the people who were involved with the sale and shipping and all that goes with it. Thanks again from us." - Dennis, email 4-28-2009 |
"Thank-you, your courtesy, honesty, & diligence as our sales representative, made it a pleasure to purchase our 2003 Z06 Anniversery Corvette, from ProTeam. I've purchased several auto's in my 66 years, but never have I been treated with such dignity & respect. My wife and I, will relish our experience. thanks again!! [We love our 'Vette]"
- D. & C.B., email 4-13-2009
"Just a quick note.. After watching Terry buying Corvettes at Mecum Auction on TV I just had to find your web site and check out who you all were... After viewing your site, All Hats Off To You, and who ever set the site up... It was one of the nicest, easiest site that I have ever seen. Thanks for your time."
- B.J., Righteous Cycle & Auto in Manitowoc, WI. since 1983
"Dear Terry, I am delighted with my car. Since I bought it from you last November, it has won many car show trophies for first place in its class, one Best Paint award, and three Best of Show awards. But, yesterday, Saturday, April 4th, I drove the car 200 miles to Austin, Texas for a NCRS Texas Chapter meet. My car was Flight judged and I was awarded Top Flight. I am very proud of my Blue Rosette and now look forward to the Texas Regional Flight Judging in October. I have decided that your term "frame-on restored" means "cosmetically restored". It is a beauty and just as advertised. I am still a satisfied customer and tell everyone where to go to find a good car. Sincerely yours,"
-C.A.K., Texas

"Fred, I just wanted to let you know the car is running great (and of course looking great). My wife and I are really enjoying it. The honks, thumbs up, "hi" signs, and appreciation from people is amazing. We are humbled. Last week we went for a drive and passed a Corvette just like mine (so 1958-60) that was silver and black. We've also enjoyed trading "Corvette waves" with all our fellow Corvette owners. Thanks again for bringing my dream to reality. The next time I see you, I'll be sure to have my restoration book with me. It has all the photos taken during the restoration that you gave me, plus a few more. It also includes the history of the car. Thanks for taking all of those pictures. A photo of our team is in the book too. I can't stop smiling,"
-K.M., email 10-08-2008
Pride & Joy
The before & after...
If you wondered what K.M. was doing in his spare time, here's your answer.
Dear Chad, Lora and I would like to thank you for the tour of your facility and taking time to answer any questions.This was our first visit to your facility and we did not have an appointment. The selection available at proteam is incredible and is helpful when thinking of a model and color. Again, thank you for taking the time on that saturday and we look forward to visiting you soon.
- R. and L., email 3-11-2009
"Hi Christine, You sure can. You organized to ship my car here in 1996. It was absolutely no-hassle, problem-free. Truck to the port, then RO-RO. It wasn't even expensive! Anyway, I appreciate the regular updates from you guys – you're all a class act! "
-M.W., AUSTRALIA
"Terry, We have never met but I have been a frequent visitor on your website for quite some time and have tried to learn as much about corvettes, especially mid-years as I can. Thanks to you sharing your knowledge with people like myself who appreciate these cars. You have made your hobby your business and I know there is alot of jealousy toward anybody that can do this. With buying and selling corvettes for so many years your knowledge is far and above other corvette enthusiasts. I have never visited Pro Team but hope maybe someday to do so. Thanks again for sharing your knowledge and experiences and hats off to you Terry, you did it your way."
- T. L., Marion, IN
"The process was done over the phone. It was very professional from the time the phone was answered, the sale, the delivery, the title, and goodies... and now this. If I was to purchase another Corvette, because of this experience, I would shop ProTeam. It's a matter of trust. ProTeam has a great reputation and knows 'Vette's better than most. Also, the return policy takes the worry out of not liking the car. The process was very fair. Thanks."
-M.C., Minnetrista, Mn.
"Dear Terry, as I sit at my desk in my business of 24 years, I am amazed at your unbelievable collection of Corvettes. I also laugh when someone is trying to outbid you at the auctions. If you want the car, you get it. My old picture of my 1969 350-350hp Riverside Gold Convertible with 22,000 miles on it when I sold it sits beside me at my desk. I miss my car. Going through your catalog, I calculated you are saving customers $2,696,000.00 with your sale prices from 1953 to 1967. Way to go. I commend your effort to make the cars for sale at better prices. Of course, we older guys with too many bills still can't do it. When I hit the lottery, I promise you I will be out to get a 1967 and that Grey LT1 you have (139Z)... for some reason, that piece really moves me. Keep up the great service you do and most of all, stay healthy. That's what life is all about."
-D.D., Phoenixviille, Pa.
"Hello Terry, I received the '62 Fuelie I bought from you, this past weekend. I am very pleased with the car. Your salesman was very professional and was honest in his description. It was a pleasure working with him. I buy/sell many cars as I am always changing up my personal collection, but this is the first experience with ProTeam. I hope we can continue to do business together in the future. Best Regards,"
-S.D., email 12-17-2008
"Terry, I wanted to let you know how much I appreciate your graciousness in taking the time to talk to me and impart your knowledge and insight to me. I really enjoyed meeting you and Fred. It was an enjoyable experience. Thanks."
-C.H, 12-12-2008
"I thought your presentation (Al Grenning at ProTeam Corvette November 2008) was one of your best ever. The new material presented (especially the M22/L88 stuff) was not only entertaining, but represents some of the most important research in the field of classic Corvettes in many years. Its apparent that a great deal of analytical detective work was required to locate and make logical sense out the maze of GM paperwork from this period. Its quite a story--worthy of a book in its own right. I was also highly impressed by the people (Bill, Kevin et al) who spent their own money to bring some very significant cars to the event. This dovetailed nicely with your presentation, and everyone seemed to enjoy looking at these cars and hearing their stories. The seminar raised almost $1,000.00 which will all go to charity. At this point it looks like the money will go to either the Columbus Children's Hospital or breast cancer research. The Heart of Ohio Chapter is thrilled to have been able to play a small part in the success of this event."
-D.B., Hilliard, Ohio
"We were impressed with your "ONLY IN AMERICA" paragraph [ProTeam eZine 11-5-2008]. This mailing has the sole purpose of promoting your business and SELLING but you took the time to reflect on what a great country we have. Thank you for the nice comments we so desperately need at this time of economical and political turmoil. Our new President Elect cannot cure the eight year decline in our economy overnight but attitudes like yours' in showing your patriotism and support is a step in the right direction. More business people should do the same. We were also glad to read your comments on Barrett-Jackson. We could only attend the Friday auction and felt the prices were somewhat down. It's nice to hear that things improved on Saturday. One observation we made was that in comparison with Kruse (Auburn Auction) the Auctioneer had a special way of getting the bidders back in after a lull in bidding. We were much more impressed with their teamwork on the auction block. They were there to sell cars and not to chit chat with small talk during bidding as we have noticed in Auburn. Thanks again for your written support in the direction the U.S.A. is taking."
- D. & L. H., Sandusky, Ohio
"Dear Fred, Thank you for taking the extra time with me on Saturday to go in, around, and under my "new" car. I especially appreciate your patience in answering all of my questions about care and maintenance. The first weekend involved many joy rides and a smile so big my face still hurts, Your group at Pro Team Corvette is top notch, and it shows. The car looks awesome, sounds great, and drives wonderfully!! My Mom was a bit teary eyed seeing the car returned to her original glory and knowing Dad was smiling down upon us. The Corvette is better than new! I also appreciated all the emailed photos as you worked through the restoration, and the final disc of photos provides a great history of the work. I'm putting a book together with all of them that will also include the history of the car. I thank you and Terry with all my heart for agreeing to take on my project. Thanks again to "the team" for their hard work and for the autographed photo. It is prominently displayed in my office. Sincerely,"
- K.M., Canal Winchester, Oh.
"Terry, after being on the catalogue list for some 18 years, I have finally made a purchase of my own. I did collaborate with a friend here in Bend, Oregon to purchase a red 89 Coupe from you around the early 90's and have referred countless others as the years have passed. Even though you did not want to trade for my Daytona Blue 63 SWC, I did not take it personally knowing the quality of your Corvettes. I am very pleased with the sale and what I know of the Corvette. They have just loaded it up according to Chad, so the wire went through and all is well, just the anticipation like a kid on Christmas Eve. A big thank you to Chad and the rest of your staff as we worked through this process. I doubt that I will not like the Corvette and return it, this will be my sixth Corvette since 1986. And am sure this will not be my last one.Best wishes for a successful year and in the new year to come."
-J.R., email 9-11-2008
"Chad, I was the local visitor with the people from Wisconsin (7 people total) that visited your facility. You were so gracious to show us around and talk with us. We really appreciated you time and your efforts. I have always had a desire to have a corvette over the years but had kind of put that desire on the back burner of late. Our visit Saturday rekindled that desire. One of these days I may have to make another visit to Napoleon. Again, thanks so much from all of us."
- Warren, email 8-20-2008
"Dear Terry, I want to thank you for the opportunity to tour your facility. My wife and I were very impressed by both the quality and variety of corvettes. I would also like to thank Chris Wilson for taking the time out of his schedule to show us around and to explain things to us. I presently have a 1980 corvette with only 52000 KM on it. If in the future I ever decide to trade up to a more exotic corvette I will come to see you first. I felt like a kid in a candy store when those warehouse doors opened. Thanks again."
- D.B., email 6-26-2008
"Best Display of mid-year Corvettes I've ever seen. Better than the Corvette show at MIS, Woodward Dream Cruise, and GM Tech Center Corvette show. You're on the top of my list when I win the Lotto!"
-T.L., Valrico, Fla.
"Hi Terry and Chris, Terry we would like to thank you for allowing us to tour your facility today. Chris Wilson took us around and made us feel at home and was very knowledgeable about the Corvettes you have on your site. All I could say was that it was unbelievable and overwhelming. We waited over a year to visit your place and it was better than we could ever imagine. A friend of mine and I were going to Barrett-Jackson in January but I will talk to him about visiting your place first to purchase a 1966-1967 Corvette. Chris, we will be sending some police patches from Windsor hope you like them. We had a great time. THANKS AGAIN,"
- B.M.H. & S.M., email 6-23-2008
"Hi Chad, Just received the car and, if it's possible, it's even better than I thought it would be. Thanks very much."
- L.K., email 6-19-2008

"Christine. Great day the car is magnificent I thank you today a lot I have are 300 miles free from problems at the beginning the battery was unloaded normal (2 months in container to France). Everything has the hour I go on the testimonial and consider I am going to say only about the good of ProTeam has all the levels and in French because  people from here are always septic to command the maintaining states. I could make them shut up!!!!. Proteam I love you has all!! I have a beautiful birthday present. Christine Big kiss. Best regards...
j'ai contacté au mois de mars Proteam car une corvette C5 me plaisait. de courrier en courrier electronique avec Christine Vance je me suis aperçu que c'était une entreprise qui tenait la route. je roule corvette depuis 20 ans. de fil en aiguille tout les jours je questionnais Christine et j'ai décidé de franchir le cap et derriere moi les préjugés de merde !!!!. je me lance je bloque une C5 noire intérieur rouge. tous les jaloux derriere moi il vont t'envoyer une épave!!! je m"en fout je bloque la voiture 2000usd tout se passe bien. le reste transfert bancaire et ensuite proteam s'occupe de tout pour nous.. a l'arrivée container 20 feet 6.60m capitonné, voiture magnifique, suivi client super!! foncez les mecs j'ai acheté une C5 98 on dirait quelle est neuve le prix 15000usd a l'arrivée en France tout frais payé container douanes françaises TVA frais portuaires et transitaires la corvette me revient a 17000 euros c'est cadeau..... mon mail."
-J. & C., crossfire31@orange.fr, France
"On a recent trip I stopped In with the Jackson Corvette Club to check out your facility ,and wanted to THANK everyone there for your courtesy and time to show us around . Most of all I wanted to say thank you for all your support to our club as well as all the others we know you have supported over the years! Thanks again,"
-T.D., Jackson Corvette Club, Jackson Michigan
"Thanks again for coming to Indianapolis to pick up Susan and myself. I really appreciated the conversation on the way. We have a lot of interests in common. The trip back to Aberdeen was just over 1,000 miles. Even though we drove in a lot of wind, and even some snow about 100 miles from home, the car performed flawlessly. Susan and I are very pleased with our purchase. Pro Team Corvette is a premier corvette dealer. I wanted you to know that the Auburn Inn was a great place to stay. I would highly recommend that you send all of your customers there. The rooms are clean and spacious, the milk and cookies after 8:00 were delicious and the free breakfast in the morning was one of the best I have had presented to me. Just thought you might want to know for the next time you make a reservation for someone."
-J/S B., Aberdeen
"Hi Chris! The car came yesterday, and it looks great and drives even greater!! Thanks a lot, great doing business with you and your company! I will recommend you to my corvette friends! Best regards,"
- S.B., Norway
"Terry: I purchased my '72 #s BB coupe (stock#186S) from Brian back in May of 2002, well here it is almost 6 years and a few hundred miles later and I just wanted Pro Team to know how satisfied I am with my car. Yep that right six years latter and I am finally getting around to saying THANK YOU! Everything you folks said was true and Brian was great to deal with. My car has won a few awards and is the subject of much discussion where ever I take it. Thanks again Pro Team and be sure to say hello to Brian."
L. P., Rancho Murieta, CA.
"I drive dealer trades for a dozen Indy new car dealers. Stopping at Auburn is a bright spot in an otherwise boring trip to Michigan on a trade. Thanks!"
-P.H., Indianapolis, In.
"Hi Terry, It was such a pleasure to meet you. I have been such a big fan of yours for so many years. I always wished I would someday be able to buy a '58 Corvette from ProTeam. When I got sick, I needed to find something to do that I was passionate about. However, I had already made all my life wishes come true but buy a '58 Corvette. So I called ProTeam, dream completed! Not to mention a friendship with my friend Tom, who owned his '57 since he got out of the Navy in the early '70's. We both won our 1st trophies at Islip speedway in L.I. I sent some photo's of Gail, you and I, in my garage, the others are the day Blu was delivered. I really believe you are the one responsible for the value that these cars truly deserve. They "ARE" the only American sports car. I also think the 1950's will be the decade in the 20th century that will be considered the era of the greatest cars produced. Thanks for stopping by. It was a real thrill. Your Biggest Fan,"
- Deb, email 2-8-2008
"Fred, I first want to thank you and your crew for doing such a good job on my car. The Reliable delivery driver was so impressed with the way the car sounded. He called his Dad so he could hear it over the cell phone. I guarantee you I will enjoy the car a lot this spring and summer. Thanks."
-J.H., email 2/13/2008
Hello Brian, Just thought I would send you note, to let you know the cars have arrived last Saturday. They look great, just the way they left. I thought they might be quite dirty when they arrived but they were completely wrapped in plastic. It was certainly a great experience dealing with you and Pro Team. I'll be back, as I think I would like to get an earlier model as well, maybe a '54. Attached are a couple of photos of the cars, for you, as they being off loaded and in my warehouse. The guy in one of the pictures is the driver from Mackie. Nice fellow. Thanks very much. Talk to you again sometime soon.
-W.J., email 2/2/2008

Terry, I am very proud to have met you at Pomona prior to the Barrett-Jackson auction. I'm sure you don't remember me but I am the guy you helped push start the '59 Inca Silver corvette. I have been into corvettes since 1961 when my friend bought a used 1960. I have known many Corvette people but your sincere interest in helping a fellow corvette fan was much appreciated at the time and probably more so now. This proves to me what a great person you are and what your business stands for. When I first bought my 1967 about 10 years ago my insurance company did not want to agree on the value for $40,000 at the time. I told them to go to your WEB site and check out the prices. They called me back in an hour and immediately agreed on the value. I am proud to support your business. If I am ever in Ohio, I will make an appointment to see your business. Thanks again for your help at Pomona. -A.H., email 2/1/2008
Brian/Terry, Just a note to say thanks for having some of the best Corvettes for sale in the entire country and helping me fulfill a 37 year long dream. See you soon.
-S.L., email 1-22-2008


"I thought I'd share an old story with you guys after seeing your $12,000 54. I've been under the spell of Corvettes since my Dad took me to Downtown Chevytown in 1967 and on the showroom floor was a 67 fastback, yellow with the black stinger hood, 427 4spd, black interior. I was in love. I at that moment knew that someday I'd have to own a Corvette. Fast forward to 1971. I turn 18 in April, graduate in June and get my first real fulltime job paying $2.96 an hour in July and in September I bought a 1962 for all of $850. And it was a nice car too. Anyway, before finding the 62 I went to look at a 54 advertised for $75. When I seen your car it reminded me of that one. I thought the guy was crazy. If it was glass it was broken, if it was metal it was rusted, if it was vinyl it was torn, etc. But those were the prices back than. After I got tired of the 62 I bought a 1959 with hardtop for $1500. And than in 1985 I bought my present Corvette, another 62, but now the price was $14,000. After owning Corvettes for 36 years I tell my Wife that I've paid my dues and now I'm ready for a new Z06. When she's done laughing I get one of those looks that reminds me that I'm lucky to have what I've got.Oh well, no harm in trying. I enjoy looking at your site and got a nice flashback after seeing your 54."
- A.H., email 12-26-2007
"Brian Eugene (Topp), I just wanted to say that my 1960 Corvette arrived and looks fantastic. The carrier (Reliable Carriers) was really great. Called me enroute and arranged a quick delivery. Congrats to Brenda for making it happen so fast. My wife got to drive it into the garage and she says it is an awesome machine! Thanks again for all your help. It really has been an enjoyable experience."
-L.P., email 12-20-2007
"Dear Terry, I first had the pleasure of meeting you in 1976 when I was attempting to trade my 1967 L79 for a 1967 L68. I would like to compliment you on assembling a terrific group of people to run ProTeam! Your vision makes it possible but your people make it happen! Specifically, Brian Topp is tops in what he does (no pun intended). He assisted me in every way necessary to make this deal happen. He could be neck deep in things he needed to do yet he afforded me the time to discuss the issues that were of concern to me. Brenda Pohl was a pleasure to work with also. She has to have the kind of job only a juggler could love. Once a deal is closed, no matter how long it may have taken, she has to have the vehicle delivered yesterday! I am truly amazed with the performance and appearance of the 1968 Corvette I purchased from Pro Team. Price is not always the most important part of the equation. Congratulations on your most recent awards and best wishes to you and yours. This is the second Corvette I have purchased from Pro Team but probably not the last!"
- W.B., email 12-15-2007
"Terry, I thought I would congratulate all of you on 20 years of preserving the interest in what truly has been America's finest sports machinery and an American icon for over 50 years. I remember talking with my wife the night before I drove to Pro Team about all the years of doing restorations on all kinds of classic cars and not having anything for myself. I have always loved Corvettes and remember discovering them when I was just big enough to look into the window of a 1964 red convertible on the showroom floor of a local dealership. I remember showing my wife some of the Corvettes I had selected from your web site, a ritual I had performed several times a year. She suggested taking the day off tomorrow and driving out to look at them. I couldn't believe what I was hearing! This was like giving me a license to fulfill a dream; it was difficult to maintain my composure, and did I not sleep at all that night. I called in sick and got an early start from Mentor and spent the better part of the day choosing my first Corvette. I'm sure Chad was relieved when I finally announced my decision after several hours of deliberation. Being a poor man, I could not afford the Top Flight or loaded big block and settled for something that would not start divorce proceedings when I returned from my visit to Pro Team. My choice was about half way through the double parked 68'-72' Corvettes. It was a numbers matching 350/4speed with two tops. This particular Corvette had a banner across the windshield that claimed an extremely rare color combination (A 992 Laguna grey with 411 Bright blue interior). After mechanical restoration and detailing, this car has won best of C3 class at local shows and this 992/411 color combo on a 1970 convertible usually stops more knowledgeable Corvette enthusiasts for a second look. It is in the 1970 registry and I have received letters from other corvette owners pointing to its rarity. So far it is the only known 1970 convertible with this color combination. I would like to first thank my wife for understanding the meaning of this passion and others I have had and supporting me in making this and other dreams a reality. Second, I would like to thank all of you at Pro Team for being the stuff that made this happen. I not only was able to find a classic Corvette that met my financial requirements, you made it possible to find something unusual and notable, and this has made my experience a proud and lasting one that gives back every time I uncover my 70' Stingray."
- B.F., Mentor, Oh.
"I bought this '69 coupe this past August off the net using the 48 hour option to buy and have been very pleased with the car. Pro Team had the car listed as a #2 car. I purchased it thinking I was going to use new parts from another 69 restoration I have in progress to get this car up to #1. The only new parts I swapped were the gills and the distributor shield. I spent another $800.00 tweaking the engine compartment to my satisfaction. Forward to this past weekend (Nov. 24th), I loaned the car to a friend to put into the '07 Houston Autorama as a substitute for his '69 Shelby GT that wasn't going to be finished in time to make the show. My car took second place in the "Restored class" which is not bad for a car I purchased sight unseen three months earlier. Thanks for a great buying experience."
- P. D., LaPorte, Tx.
"Terry, I wanted to show you how she was coming out. I purchased this straight 71' from you last season and couldn't help but rebuild her, my way. Still some fit and finish underway- she showed at the East Coast Rheinbeck GoodGuys' Nationals. Thanks for all the help from PT. Best, Bob S."
-B.S., email 10-29-2007
"I purchased over the phone. I have been looking at your website for five years and am very happy, thanks to Brian Hay. He made this (purchase) very easy for me. Can't thank him enough."
-B.K., Northport, NY
"T.C. was very knowledgeable and entertaining. He is very professional and 'reads' customers' level of Corvette knowledge so they are not intimidated. A true asset to a great business."
-S.O., Salamanca, NY
"Wow! I had asked my wife if I had died and gone to heaven (with regards to the selection of Proteam Corvettes). We walked off the street 'cold' and Chris (Wilson) spent about two hours with us answering all our questions and never putting any pressure on us. You have a fantastic operation and staff and I just wish I had caught the Corvette fever years ago. We will return!"
-R. & S.C., Rocky River, Oh.
"Brian (Topp), Owning this car now brings back great memories of cruising Rohacs Drive-in, drag racing on local county roads, and some serious courting. I have purchased four Corvettes from you over the years. You have, on each occasion, directed me to cars that have proven to be excellent investments. Patricia and I have made some special friends as a result of ownership of the cars. We are grateful to you for your advice, your teaching, and your friendship over the past years. By the way, I'm still courting that same girl, we will be married forty-one years in October, Clarellare."
-C.W., email 9-7-2007
" I actually had one (1962 Roman Red/Red) and just shipped it back to the eBay seller because he said it was matching numbers when it wasn't. In reality, the engine was a 350/350. Lucky for me I printed the auction and he refunded my money. No more eBay for me on these kind of cars, actually the one I sent back is up on eBay again with some of the wrong info again. This is why I will only trust you guys. I can see you take the time to hand select your cars and have the knowledge and helpfulness to help the customer through it. Once again, thanks."
-J.G., email 9-10-2007
"Chad, I saw you at Carlisle. I just wanted to let you know what happened to the 1960 Martha and I bought from you and Topp in 2003. This year, I finally decided that it was going to be "finished" (it will always be a work in progress) and judged no matter what, so we got Top Flight at 97.3% at Charlotte in April, Performance Verification at New Jersey in May, and Duntov at Boston in July at 98.7.25%! We drove it to Boston and were surprised to also get the Sam Folz award for the longest driven judged car. Now we are going to drive it until it needs to be restored again! I also got my Master Judge certification in May and a friend of mine and I are working on a book that will be a restoration manual for 1958-60 Corvettes. Hope things are going well!"
- B. B., Glen Allen, Va.
"Hi Terry, just wanted to drop a short note to say thankyou for the professionalism shown in regards to my purchase of the attached car. I bought the car sight unseen and the questions I asked where answered in an honest and forthright manner, and the service was just excellent. I own a 74 man real estate office and I am very familiar with the fact that service is number one. I anticipated spending some money on the car when I bought it and I did about 3 grand to fix a few different things. I had asked many questions about the car and he answered them and fixed what I had asked. The car runs like a dream, and I have had a couple of unsolicited offers on it already, and it isn't for sale and actually starting to watch for another one. If you want to use any part of this for a testimonial please feel free. And I want to again thank for the great service."
- W. J., Kelowna, B. C., Canada
"GREAT newsletter! Wish I had the time and resources to participate on the C3 scene. There are few that can really work and live their passions at the same time. Congratulations to Terry for achieving the 'PRO Team Benchmark'."
-L.A., email 7-18-2007
"Terry & crew... excellent newsletter! Your best one yet! Congrats on your Bloomington Gold awards!
-Bill Locke, Director Bloomington Gold Collection & Hall of Fame
"Hi Chris. Well guys, 261X (1965 Corvette Red Convertible) has finally arrived here in Australia. Just got it registered last Friday after the usual paper/statutory hiccups etc….. (RUTE 66). Gave her a polish, pulled off the hubs to check brakes/ bearings/ suspension etc and put on some aftermarket rims and wheels to protect the originals.The car is awesome and about twice as good as I expected.Thank you again Chris for exemplary service……it's difficult from half way around the world & I put my trust in you. Cheers and thanks again. Kind Regards,"
- Karlo, Australia, email 5-21-07
"Chad: The title arrived today, and the goody box came yesterday. Thanks for the 'goodies'. I have seldom purchased anything 'on line', and then turn around and buy a classic 'Vette. Go figure! But it really was a pleasant experience and you made it that way. Thank you again. I will certainly keep ProTeam on top when searching for my next classic and maybe next time I will actually see the car before buying it. If not, that Money Back Guarantee is very comforting. Please pass on my appreciation to all the others at ProTeam for the fine work. Ahhh...imagining that irresistible 'new car' smell?"
- J.Y., email 4-17-07
"Terry, I just wanted to thank you for the gift certificate and the car cover, which were in the starter kit sent to me. I love the car. Chad was great through the whole transaction. He is a great guy and I will recommend him to friends. Again thank you and I will be calling chad when I want to move up to the 435 HP. Sincerely,"
-M.P., email 4-4-2007
"I was elated to visit your impressive facility in December, 2006 and had the good fortune of meeting with T.C. Cooley. Life is all about relationships and trust. Spending 3 days with T.C. convinced me that my judge of character wasn't misplaced even if he's a coupe guy. T.C. listened fully to my desires, goals, apprehensions, and concerns; later translating that into pros and cons for me regarding each vehicle we studied. 344W hit all the right nerves and in February we were able to finalize the deal. Terry Michaelis - I admire your ability and professionalism, I appreciate your passion for Corvettes, and really thank you for your frank negotiations. T.C. is the epitome of a good salesman: extremely knowledgeable, frank, personable, attentive, and empathetic. ProTeam should be grateful and proud to have him representative of its workforce. After the sale, things got even better: everything was Rolex precision - the correspondence, communications, coordination, and delivery. What a staff! Now, I get to drive and polish this beauty and have my new friends at ProTeam to boot. If any customer has a question or needs a reference, send them to me. Thank you," To see Elton's car in its new home and other award winners, click here
-T.M.B. & T.C.E.B., Houston, Tx.
"Mr. Michaelis, I purchased a beautiful black '95 LT1 Corvette Convertible from ProTeam Corvette just before Christmas and wanted to tell you that I could not be more pleased, not only with the car but with the professionalism and enthusiasm of your staff. Chris Wilson sensed and shared our excitement and spent a lot of time with us. He spent additional time taking my daughter and me on a tour of the facilities to see the many Corvettes in your stock. We were excited to see "the last Corvette" all alone, tucked away in a corner. My C4 LT1 is not a rare or unique Corvette to Corvette enthusiasts, it is very special and rare to me as all Corvettes are limited in production numbers with all models crafted to the highest level of the technology of the day. The C4 became very special to me after meeting Dave McLellan when our architectural firm Neumann-Smith and Associates designed the National Corvette Museum for the NCRS. Since then, and after sending three girls to college, owning the Corvette of my dream has truly been a thrill. I want to thank you for the gifts and forward a special thank you to your staff for making the process a seamless and enjoyable experience."
- R. M., emailed 2-2-2007
"Great job! I had given him a list of Vettes that I wanted to see. The Corvette I purchased was not on my list. What I was looking for more than I did. He was never pushy but he answered all my questions and has a good feel for what I was looking for. He has it waiting ... saving the best for last. I bought it! Thanks again."
-R. & J. F., Cape Coral, Fla.
"Dear Terry and Fred, I can't seem to wipe the grin off my face. I wanted to thank you, ProTeam Corvette, and the Last Corvette Project for your very generous contribution of $40,000.00 to the Chip Miller Charitable Foundation. You not only contributed a large amount of money, but managed to create a tremendous buzz about our Foundation's efforts in the fight against Amyloidosis. The Last Corvette Project took on a life of its own, generating a tremendous amount of publicity. You should be very proud of what you've accomplished, not only for a worthy charity, but for the entire Corvette hobby. Your generosity and support was over the top and we can't thank you enough. I assure you my father was smiling down during the opening night Gala. It is nice to know his dream has come true... to help others in need.. Thank you for caring and sharing,"
-Lance Miller, Carlisle, PA.

"Terry, just a short note to thank you and Tom West on the courteous and professional experience I had with Proteam. This is the second Top Flight Corvette that I sold to ProTeam. Both transactions went smooth and you paid top dollar as advertised. When I sell you a Corvette you 'show me the money' I'm sure we will do more business in the near future. Have a happy and healthy and very prosperous New Year. Sincerely,"
-D. B., email 12-6-06
"Brian, I want to thank you for all of your help and knowledge of these classic cars. This 1962 Vette was always my Dream Car. A 62 with the 327ci, 340hp, numbers matching. I even got my favorite color Honduras Maroon. Everything, down to the last detail was all I ever hoped to get. It is something you helped me turn into a reality. I thank you and Carla for everything. Above all you made this experience everything it should be. I will make sure to send any referral I can your way. As you know, this is the only Vette I have ever driven. I held out for my Dream Car, and am happy to finally say I have it. I am proud to be a member of the Pro Team. Thanks,"
-D. O., email 10-31-06
"Even though I still ache badly from the terrific beating I took from your agent while negotiating the sale of my (now your) '65 Vette, I can assure you are fortunate to have such a fine gentleman represent you and your company in the field. Mr. West is very polite, straightforward and professional. I enjoyed meeting and dealing with him. Good luck with the car. (it was) my baby for 41 years and that didn't faze Tom one bit."
-J.K., email 11-9-06
"Terry, I want to thank you for the deal that you gave me on the car. The car drives excellent, rides excellent, looks excellent (I have had many compliments) and sounds great with the added side exhausts. The Proteam experience was awesome. The car, the salesman (Chad Meyers), the staff, the haul to my door was just as promised. I have and will recommend Proteam Corvette to others. I have had a '71, '73, '81 and presently 1999 corvette but always desired a mid year. Thank you and the Proteam staff for making my dream come true."
-D. G., email 11-6-06
"T.C., you probably don't remember this fully restored 1954 show Corvette as it was only a shell (at ProTeam). Thanks for planting the seed. Many hours and thousands of dollars later it turned out okay. It has been featured on ESPNII and has been on air several times. Sincerely," To see it in show condition click here.
-D.T., Saucier, Ms.
"Just a quick note....The '60 vette I purchased from you is better than I could have dreamed it could be. Thanks for your professional and honest representation of this fine auto. Look forward to buying more in the future ...Thanks again, Dan."
email: 10-3-2006
"Thanks to the Proteam guys for copies of your magazine, plus stickers, mouse pad etc. I really appreciated it. The mouse pad has already generated interest from the other 'car nuts' in my office. Your customer service (after 10 years!) and attention to detail is what separates ProTeam from the rest!"
-M.W., Western Australia
"My friend and I stopped by ProTeam on a eight day road trip from Georgia to Toronto. We went through the Corvette Plant in Bowling Green to car shows and car museums the entire trip. It was great! The highlight was ProTeam. The cars were great. The selection was unbelievable and Brian made the experience unforgettable! Thanks again Brian and ProTeam!"
-A.V., Evans, Ga.
"Dear Brian, Speaking with you (at Carlisle) prompted me to write this overdue letter. I am 56 years old and have worked hard to provide my family with a good and secure life. Last March, I decided that I should do something I always wanted to do. Sammy and I fell in love with C-2's in the 1960's and it has been a dream to have one in my garage. That decision lead me to you. I drove from N. J. to your Napoleon location. Your hospitality and knowledge were shared without the pretence. You and Mike made the visit enjoyable and rewarding. And, without question, you have the goods. Thank you so much. I love my car and am in the process of making it all it can be. Other than my family, it is my most prized possession. I urge you hard working men to smell the roses at Pro Team; and feel young again. Sincerely,"
- J. T., proud owner '66 silver coupe
"Terry, I wanted to drop you an email to let you know what a GREAT job Chad Meyers does for your company. I have known about Pro Team for a number of years. I always wanted to visit Napoleon but just never had the time. We left Pittsburgh for the Woodward Dream Cruise and were talking about stopping by. Boy, were we glad we did. You have an AWESOME inventory of Corvettes. The highlight of the visit was Chad Meyers. Chad could not have been more helpful and giving of his time. I do not send that many letters/emails like this. So when I send one it is because I was truly impressed. Chad is tremendous asset to your organization. On a side note, one of the guys that were in my traveling party, Mark Frankovich, has had several phone conversations regarding a '69 big block car we saw when we were there. You might just get a sale out of our visit."
-D.A., email 8-28-2006
"I recently purchased my 66 Vette, stock #112X, from ProTeam and wanted to let all of you know what a professional experience it was. I had problems with the first car. Your sales rep, Brian Hay, was professional, courteous and extremely helpful with the transaction (returning one and looking for another). I have to admit that I was discouraged and just wanted to reconsider the whole thing, but Brian helped me find the right one and worked out a deal that both parties were happy with. I just wanted to let you know that you should be quite satisfied with Brian working for you as any buyer should feel the same having him as their salesperson. And we cannot forget Brenda, I'm sure I sounded like a pest, calling all the time. She was very professional and patient with me. Thanx, again,"
- C.C., 8-5-2006
"Hi Terry, I just wanted to thank you for calling me the other day regarding "The Last" 1967 Corvette Sting Ray and the fact you are donating $5,000.00 of the proceeds to a charity. There are a lot of great causes out there, so whoever is the fortunate beneficiary should be very thankful and willing to work with you in any way that it can to return the gratitude. I also wanted to thank you for some helpful advice towards our annual collector car drawing. Two of the biggest tips were creating a direct mailing list and the option of credit card purchases. Our list has grown to over 105,000 names and whereas our average check sent in to purchase tickets is about $35.00, the average credit card purchase is closer to $80.00. We started our fund raiser with Ronald McDonald House in 1993 with just $1,600. Our first car was a 1954 Ford Customline which cost $3,500. We gave the guy $500 up front and paid him off as we sold tickets. Our annual sales for the first year were $11,100.00. Today, thanks in part to your consultation, our tickets sales have generated $1,300,000 to $1,800,000 in each of the past three years. I would also like to take you up on your offer of discussing with you again the move from direct mail to e-mail. Good luck on winning our 2005 Ford GT and also on auctioning off the '67. I put my bid in at $1,275,000. Sincerely,"
- C. H., Fresno, Ca. Friends of the House, Ronald McDonald House Charities

"Fred: I was just checking out your inventory tonight and thought I would shoot you a quick message. My car is running great. Since you installed the engine, I have gone through the rest of the drive train (tranny overhaul, trailing arms, brakes, new u-joints, pulled the differential & inspected, etc). Last year I drove it 7,800 miles (with a smile). Next winter I plan to pull the body and do a frame-off. This is a link to a live video cam I have in my garage. Last weekend I had it on display for a local fund raiser. My first trip this summer will be to a cruise-in at the Legendary Motorcar Company in Canada (about 300 miles). I am thoroughly enjoying my car."
- R. B., Elmira, NY
"I wanted to write a short note to thank Chad for his help and the tour of you showrooms. I brought my daughter and my 10 year old grandson with me. We were all impressed with the many beautiful cars. It makes me wish I was a billionaire so I could buy several of your cars. I have never seen so much beauty in one place. I love my 1980 I purchased and added to my two car collection. Thanks again."
- R. P., Kokomo, IN
"Chris, Thank you for all the time and attention you gave to Jackie and me on Thursday. To say we were overwhelmed is putting it mildly. I really appreciated the way you had selected out each of the cars I had e-mailed and how once you knew what I was looking for, showed me additional cars I had failed to note. Also your willingness to answer all our questions with honesty and your knowledge was greatly appreciated. I'd like to tell you that there was an offer to purchase on the way. Unfortunately, the cars I'm most interested in are out of my price range. I'd like to find something in the $50's with a max of $60. To that extent, I'm going to continue to review your inventory with a little more focus on the cars that are not quite as in demand as the '67s. If I see something I'll give you a call. Thanks again,"
- J.B., email 2-25-06
"Terry Michaelis: I have followed you for many years, as an old man of 47, I have owned thirteen Corvettes (older models). I read the story of the "Last"™ Corvette and was shocked on the price change as it went through different owners. I remember when I first met you at the Ford proving grounds in Detroit. You put on a show. I was 21 years old at the time. I drove my 1970 454/390 Corvette to the show. You, on the other hand, drove a 1969 Silver L-88 Corvette and was trying to sell it. I thought you were out of your mind when you told me the price you were asking. I thought to myself, who on earth would pay that for a L-88 Corvette?... oh, by the way, you were asking $18,000.00. Keep up the good work."
-G. Harmon, Grand Blanc, Mi.
"Hello Terry; You were styling on the Barrett-Jackson auctions! I just got the winter catalog, and I am going to miss the old hard pages, but I know you have to change with the times, and the expense of publication, etc.. I have been receiving the catalogs since 1997, when I purchased my 1961 Honduras Maroon, Fawn Beige, 283/230 4spd. car from you guys. At the time I just wanted any 58-62 corvette, but when it came down to the decision, I chose the above numbers matching, +3 from your catalog. Since that time I have joined NCRS, and the first time out judging, it ended up with a second flight. I have brought it up to a top flight, with my best score being a 97.2% at the Monterey national, but since I drove it on the national road tour, we ended up with a score of 106.4%. I have shared your catalogs with anybody that asks, and find it exciting when they read them and ask questions. I don't think any of my friends have purchased a car from you, but you never know. I know your busy, but I wanted to take a few minutes to thank you for the past catalogs, and if I ever hit the lottery, I will be coming to see you. Thanks again,"
-K. Ibsen, email 1-23-2006
"I just received my latest ProTeam mailer and I thought I'd say hello. I purchased a 1967 427/435 hp over 10 years ago from your company (ProTeam Corvettes). At the time, I was looking for a "Driver" and you had a Red coupe w/Black leather int., black stinger. Not a lot of options but that was what I was looking for. The car had a very nice appearance and was very clean with matching numbers to boot! Over the last decade, I have been replacing items. First were safety concerns, brakes, suspension, tires, etc. Lately I have been replacing non stock pieces with the correct items, and to top it off, I had power steering installed last summer, (old age creeping in), by John's Corvette Service. As you are aware of, the project is never over. Next on my list is side pipes, and knock off's. I just want to thank you for more than 10 years of pleasure. This car turns heads where ever it goes! Lots of luck in your future. Best Regards,"
- M.P., Conway, NH
"I recently flew to Ohio from British Columbia, Canada to purchase my 1993 Corvette. I dealt with Chris Wilson, who, I must say is an excellent employee and a great asset to your Pro Team staff. We spoke several times on the telephone and exchanged emails in preparation for my visit. He was always prompt in returning my calls or emails. He was very polite and never pushy. Chris was very factual and frank when describing the cars I was interested in and he never exagerated any vehicle's condition. Upon arriving in Ohio, Chris met me at the airport in his personal vehicle and drove me to the dealership. The car he helped me chose was more than I could have wished for. It is beautiful and in show room condition, just as your website and Chris had described it. I drove it back to Canada and it ran like a dream. I must also thank Christine in your accounting department. She was a real pleasure to deal with and answered all my questions with patience and a pleasant disposition. She even faxed all the required documents to U.S. Customs for me, which made exporting the vehicle quick and easy. You should be very proud of your staff. I will see you all in a few years when I purchase my second Corvette."
- A.J.I., B. C., Canada.
"Terry, I appreciate you & Brian working with me on this car. I want to mention to you that I am pleased with the professionalism that Brian Hay submits when dealing on a car, his self dignity & honesty was refreshing. If any of my friends are interested in ProTeam, I will certainly send them to Mr. Hay. Thanks again & I'll see you on SPEED TV."
-G. Hobbs, email 1-4-2006
"Hello Terry, I recently bought your Daytona Blue '63 Convertible. I'm pleased to say that you've got one of the nicest young men on your sales staff in Chris Wilson, I just can't say enough about him. Unlike most car sales people, this fellow never tries to give you a line of bull. He politely answers questions, and if he doesn't know, he'll find out. He follows up on what he says he'll do. I came real close to making a deal on the internet, with another dealer but that "other dealer" seemed a little to pushy and made me feel I was getting the "bums rush"..... your sales staff has a quiet air of confidence that radiates an attitude I think (as a customer) fits well with your theme at ProTeam Corvette..... don't get to big headed, as there's always room for improvement. Thanks for making my dream come true!!!!"
- L. F., Kenosha, Wi.
"Everybody was extremely patient answering all questions. It took seven hours for me to decide. Please thanks Brian Topp, Fred, and the staff for being so helpful."
-B.P., Aylmer, Ont, Canada
"Hi, Brian, I'm so sorry we kept missing each other with the phone calls last week, as Chad must've relayed to you, Sandy was totally awestruck, speechless for 5 minutes, and one happy "60" year old man! He loves the car and was truly surprised and so appreciative of how I, plus you and others who helped me, were able to really pull off this wonderful surprise. On our first spin, with all our friends watching, Sandy said, "this is just too COOL!" and neither of us could get to sleep that night because we were both just too happy and excited. So, I thank you, Brian, for helping me to make this all happen, and also please give my thank you's to Brenda, as well, for helping the car to not only get here in time, but a week early. I know if I need anything I can call you, and I have already spread the word about ProTeam corvette. Thanks again."
-S & D, email 11-9-2005
"Hi Terry, My wife and I stopped in the other day and Chad took a lot of time with us showing us your tremendous collection of Corvettes. Although I was not sure that I wanted an older one, although I have always liked them a lot, we are now convinced that we will buy from you when the time comes. Chad was very gracious and accomodating. He did a great job of explaining your operation. I would be very comfortable buying a vehicle from you. I have to decide whether I want to order that 2006 black coupe or get one of the mid-years that I fell in love with when they were new. Sooner or later we will be in touch, regardless. Still scratching our heads about a decision..."
- S. & D. Smith, email November 2, 2005
"Brian, thanks for sharing the photo of Patricia and the '57 ! She still looks better than the car ! As you know the '57 is the second award winner that we purchased from you at ProTeam. The first is a '62 black fuelie that as won numerous Top Flight awards during the past two years. The car is exactly the same as the car I had in 1966 when Patricia and I married. I was leaving for Vietnam and the car was sold. When we walked into the showroom and saw that triple black '62 it brought back a flood of wonderful memories. Showing the '57 and the '62 at various NCRS events and Bloomington has been great fun. We have met so many fine people and made special new friends. Not only that, the cars have been outstanding investments! Thanks to you and all the great folks at Proteam!"
-P. & C.W, email 10-28-2005
"Fred, Hi, I Entered a NCRS judging at BRYNER CHEVROLET in Jenkintown Pa. on Oct. 9, with my 1966 silver pearl corvette. It was sponsored by Delaware Valley NCRS. I took a 169 points hit over all which put me between 95 to 96%. Not bad for first time out. With about $15.00 and two weeks I know I can get back another easy 1-1/2 points with some very simple corrections."
-S.P., email October 19, 2005
"Hello Mr. Michaelis, my name is Mitko T. I am very big Corvette fan and also I am car mechanic working for GM dealer in Belgium. My dream is work with Corvettes but unfortunately here in Belgium the Corvette is not verry popular car and I have opportunity to fix someone only every 1-2 month. I have experience like car mechanik for more than 12 years (I am 31 years old now). Do you Interested to take a mechanic or someone for another job in your company ? If you need some dates or talk with me I can send or call you. I will try to send a photo. Sorry if my English is not good enough, because is not my native languige. I am speaking also good Spanish, French and Bulgarian. Best Regards,"
-M.T., Belgium
"Terry, Just wanted to let you know how happy I am with my new old Corvette. I'm learning to do things I didn't think I could do and enjoying doing them. I guess you can teach an old dog new tricks. I hope sales are up and business is great."
-R.C, email 10-3-2005
"I think your whole staff is very good. Thanks to T.C., Christine, and Brenda."
-J.P.C., Berkeley, Mo.
"I love your place!!!! I walked in there and did not want to leave! I live in Walbridge so you are not that far away."
-V.A., email 8-29-05
"Hello, I am Jamie, the 13 year old girl who came in with my mom from Michigan. I just wanted to say thank you. I enjoyed your showrooms, especially the split window! That is and always has been my favorite corvette. I prefer red over black, but hey, I like whatever I can get my hands on! Ok, well I just wanted to say thanks and I appreciate it!"
-J. S., Wayne, Mi.
"Just wanted to see this place for real. Your selection was amazing. I thoroughly enjoyed the tour of your warehouse. I have seen your ads in the Corvette Trader and on the internet. I was fascinated to see that many quality cars in one place."
-M.S., Maysville, Ky.
"My husband is an over-the-road truck driver and we are owners of two Corvettes. He was very impressed with what he saw and the salesperson (Brian Hay) was very knowledgeable and friendly. My husband said it was 'like going to his grandparent's place when he was a little kid and couldn't wait to go back again!!' What memories!!!"
-J.S., St. Joseph, Mn.
"I purchased the car ('57 Black Corvette) from ProTeam in 1996. Thanks for letting me enjoy the '57 for nine years and paying me to watch over it. A better investment than the stock market."
-R.K., Cincinnati, Oh.
"Dear Eugene, The car arrived yesterday afternoon. Well, it is everything you said it was, it is truly beautiful. The men who delivered it were courteous. John is very excited. Thanks again for all your help."
-L. & J.B., email 6-21-2005
"I always enjoy a transaction with Mr. (Tom) West. I find him knowledgeable, polite, and very professional"
-L.A.F., N. Augusta, SC (May 2005)
"Dear Terry, I'd like to take a moment to thank you and the guys for a most memorable weekend out in the midwest. I'm glad that I finally took you up on your offer to come out and tour the facilities. I've been around vettes all of my life, and I was lost for words after viewing the magnitude of your operation. You have truly set up a remarkable place for folks to come and make an educated decision about buying or selling a vette. I'd also like to thank Topp for showing me around the various buildings,and explaining to me what gets done in each. From the high end 67 big blocks, to the pre-shop new arrivals, I was elated to take it all in. Even if you are not a vette-head, I would highly recommend making a trip out to the facility. You will never see more quality fiberglass in one place ever in your life!!! The only negative I could possibly draw is that I didn't take you up on your offer sooner. After discussing my experience with my vet buddies, they all now want to make the trip...so I'm sure I'll be seeing you guys again in the foreseeable future!! Thanks again for a great time...see you all in Bloomington."
-J. R., Holmdel, NJ (June 2005)
"Just thought I would send a note to tell you how much I am enjoying my '60 Vette. We'd been in several shows and have won trophies each time. It attracts the attention of the enthusiasts especially at the Corvette only shows. Really a nice car and I'd enjoying it greatly. I'm thinking about refreshing the restoration beginning this winter. Am also interested in doing any engine work that may be required as well. Was curious if you guys would contract for a project like that. I don't want to restore the fun out of it but I would consider taking it to a level that would requalify for the Bloomington and NCRS credentials and be worthy of a Friday or Saturday position at Barrett Jackson maybe in a couple of years. Would appreciate the benefit of your expertise and thanks again for selling me such a terrific little car."
-A.C., email 5-24-2005
"Chris knew all the answers but was not 'overbearing' with knowledge to a new Corvette person. Chris is a very polite, confident person; went at our pace making it clear he was not in a hurry. Chris was very good, seemed honest, and eager to succeed. I purchased a '60 from ProTeam in '98 before retirement - too early. Now I'm retired, I own twelve old cars."
L.L., Smithfield, Wi. (Spring 2005)
"Mr. Michaelis, Thank you for the appraisal of my 1967 C.O.P.O. Corvette. Appraisal date 3/22/05. Terry, thanks for your very professional service. In this day and age it is refreshing for someone actually to call and discuss to get the job done right. You are a true professional. With sincere thanks,"
J.V., Sheboygan, Wi (Spring 2005)
"I'm writing this letter to you not to complain as people usually do when writing to a company they have dealt with, but to compliment several persons within your dealership. First of all from the moment I entered the building I and my wife were greeted with much respect and treated very well. I did have many conversations with your salesman T.C. Cooley before taking the long trip to visit your company. He immediately showed us around, and got us acquainted to your inventory. We were very much impressed, and T.C. Began to explain everything he knew about corvettes, which happens to be quite a bit since I already have one corvette. He spent many hours with us, explaining and showing us all the inventory especially the years that we were interested in. That day because of T.C. We had a full education on vintage Vettes, and within the many hours we were together and not once was there any pressure to purchase. We made up our minds and purchased the vette that T.C. Recommended. He was right on the money. He knew I and my wife were very "meticulous" about our cars and we feel that we bought a brand new old 1959 vette. Then we were introduced to Brenda for the delivery and she was great. Could not believe everything she did was done correctly the first time around. Delivery was prompt and well handled. Unusual in this day and age. Another person on your staff that deserves credit is Sue. Always returned my calls and assisted me with my small problems. Your company should be very proud of your staff especially in today's world of employment. As far as T.C. Is concerned, we communicate like friends and he has been there to help and advise me with any problems or questions I have regarding our purchase; even after the sale was over, which I really respect. We will definitely recommend your company to everyone who is interested in older corvettes. Thanks again for making us happy and feeling secure with our purchase. Yours Truly"
-G. and P. Allan, Franklin, NC (March 8, 2005)
"Dear Terry, About a month ago I e-mailed you and I was pretty upset, I was willing to pay list price for one of your corvettes and was told that the price had just gone up $20,000. Wow that was my dream car and now it was gone! I told you the whole story thinking that I would never hear from you but the next day I received a e-mail and you were willing to sell me the car at the lower selling price!! You really surprised me!!!! First of all I would like to personally "THANK YOU" that was more than fair!!! This is My first corvette but I can tell you it will not be my last and I would not think of going anywhere but Pro Team. In fact I would like to start a collection including a 67 L-88!!!! Everyday I go to your web site so I can blow my mind with your great cars. In the spring I am planning a trip down to visit and would love to meet you and shake your hand and plan my next car. Best Regards,"
-T.M., email 3-4-2005
"Good Job! This is the third Corvette I purchased from you. Your reputation/integrity is everything! Thanks."
-G.D., Laguna Beach, Ca. (February 2005)
Terry, I wanted to drop you a line to express my appreciation for the technical advice I received from Fred. I called yesterday concerning a turn signal problem I had developed on the 63 coupe I purchased last month. I was asking for advice on what parts I should order, which parts house he recommended, etc. Fred suggested that I check the switch cable on the lower steering column before I ordered any parts or "tore into" the steering column. The advice he gave me was correct, and saved me time, money and frustration. I have thanked Fred for his assistance, but I am a firm believer in letting one's boss know when an employee did an outstanding job. Thanks again for the assistance your company provided.
-D. H., Valley Center, KS (February 2005)
Most Dealers try to take apart your Vette to negotiate a price. I would never sell to anyone who does this. Mike was very professional.
- R.J. P., Plant, Fla. (February 2005)
The car you bought (your Stk. #420) is the nicest '67 I have seen. Itis all there and will be an asset to who ever buys it.
-C.L., Waldorf, Md. (February 2005)

"I'm writing this letter to you not to complain as people usually do when writing to a company they have dealt with, but to compliment several persons within your dealership. First of all from the moment I entered the building I and my wife were greeted with much respect and treated very well. I did have many conversations with your salesman T.C. Cooley before taking the long trip to visit your company. He immediately showed us around, and got us acquainted to your inventory. We were very much impressed, and T.C. Began to explain everything he knew about corvettes, which happens to be quite a bit since I already have one corvette. He spent many hours with us, explaining and showing us all the inventory especially the years that we were interested in. That day because of T.C. We had a full education on vintage Vettes, and within the many hours we were together and not once was there any pressure to purchase. We made up our minds and purchased the vette that T.C. Recommended. He was right on the money. He knew I and my wife were very "meticulous" about our cars and we feel that we bought a brand new old 1959 vette. Then we were introduced to brenda for the delivery and she was great. Could not believe everything she did was done correctly the first time around. Delivery was prompt and well handled. Unusual in this day and age. Another person on your staff that deserves credit is sue. Always returned my calls and assisted me with my small problems. Your company should be very proud of your staff especially in today's world of employment. As far as T.C. Is concerned, we communicate like friends and he has been there to help and advise me with any problems or questions I have regarding our purchase; even after the sale was over, which I really respect. We will definitely recommend your company to everyone who is interested in older corvettes. Thanks again for making us happy and feeling secure with our purchase. Yours Truly"
-G. and P. Allan, Franklin, NC (January 2005)
"To Terry, In October of 2003 I had dream during the night that I had a '66 Corvette in my garage. I told my wife about it the next day and she said fine, what about it? I said I am going to look for one. I went on my computer and there was ProTeam. You had just what I wanted. Everyone I spoke to there was more than helpful. I want to thank so very much for all the times I called him and asking questions. He was very informative. And also Brenda, so very helpful. The delivery of the 'Vette' was right on the day they promised. You guys have something to be proud of with your operation. I have not been treated this nice since the 1960s. By the way, I graduated from high school in 1969. Keep up the great work! "
- M.,Ca., email 1/11/2004
" It was an awesome drive home last Saturday afternoon. Tom beamed to think he was able to purchase his dream... a Corvette!! We immediately took the film to get developed on Sunday. The pictures turned out great and we've had a good time showing them to friends and family. They all agree, it was beautiful. As happy as we were about the car, we couldn't stop talking about you. Your honesty, your knowledge and humor... well, all can I say is, we were doubly blessed that day. A new car and a new friendship. When a person makes a big purchase, you just pray that the salesperson will be kind, helpful (but not pushy), understanding, and honest. Well, you sure fit the bill! Just to say 'thank you' just doesn't seem like enough, but please know that it comes from the bottom of our hearts! Because of you, we know our decision was just and good. your noble gift of honesty is such an asset to ProTeam Corvette Sales. What a wonderful person you are! Sincerely,"
-T. & D.T., Belleville, Oh. (2004)
"We would like to bring your attention our gratitude for having turn our deepest dissappointment in the purchase of one of your automobiles into great satisfaction with another purchase and most professional service provided to us. We know ou must be very proud to have a representative as fine and knowledgeable as Mr. Cooley. His HONEST, detailed and prfessional service to us restored our faith in ProTeam. We do know some fine people with genuine interest in sports cars and we shall speak well of your organization. We shall also recommend to friends that they should deal with your finest sales representative. Our future purchases shall be only through him. Once again, integrity in people like him goes a long way via word of mouth to making you one of the best Corvette dealers in the nation."
--L & C.W., Boca Raton, Fla. (2004)
"I felt compelled to write to you let you know how extremely pleased my wife Judy and I are with the 1964 Corvette Stingray convertible that we recently purchased from ProTeam. The car was a 50th birthday present from my wife and I was completely and pleasantly surprised when the car was delivered to my home. I have traveled all over the country and have visited classic Corvettes dealers on the west coast as well as in the midwest and here in Florida. Your selection of cars is by far the best that I have ever seen. More importantly, everyone at ProTeam is so easy to deal with and so courteous that the whole experience of purchasing a car from ProTeam is a very special and memorable experience. I was not able to physically come to your showrooms but dealt with you through the internet and with your outstanding salesman, Chris Wilson. Chris was very helpful in assisting me and in answering questions that I had concerning several cars that I was considering for purchase. Chris is the type of salesperson that will only make your business more popular and successful in the future.
I would like to especially commend Christine and Brenda, who were responsible for coordinating delivery of my Corvettes. These ladies are a pleasure to deal with and made my purchase and delivery of the car a painless and memorable experience.
I can assure you that I will be purchasing another classic Corvette in the future and will make it a point to deal exclusively with ProTeam. We will travel to Napoleon, Ohio to visit you and to meet you in person. Please give my best regards to all of your staff and thanks for helping make my 50th birthday one that I will never forget."
--D.M., Jacksonville, Fl (2004)
I definately have chosen to keep the car and am returning the notice. Please forward everything to my attention. It has been an extemely easy process and a pleasure dealing with ProTeam. Thanks again.
T.R., Louisville, Ky. (2004)
Chris (Wilson), I'll definately be back. You give a guy spring fever twelve months a year.
-J..O., Adrian, Mi. (2004)
"Greetings from Canada. Its been about 8 months since I purchased my 66 Mosport green 427 roadster from Proteam. I just wanted to tell you that I am still very happy with it. I have researched most of its past. I have spoken with most previous owners, including the first two. I discovered that this car was a dealer ordered for stock, with no specific buyer in mind. It had custom wheels and striping added by this performance oriented dealership prior to its hitting the show room floor. I have located the original engine and I am now negotiating to purchase it. I think you may have made a mistake letting this very special car slip through your hands. But, I sure appreciate it. I am often asked if I would go through Proteam again to purchase a car, and my answer is (without hesitation) yes. Thanks."
- J. K., email 4/25/2004
"After looking for a Corvette in every Auto Trader type book, online, etc. Every nice car kept coming back to ProTeam! So I thought to myself, you got to go to Ohio. One Sunday, eleven hours later, I was there. Monday morning I was not dissatisfied that I went. What a selection in one place! I am a very proud owner of my 1958 Corvette and I've told everybody ProTeam, that's the place! Thanks guys."
-G.R., Oxford, Al. (2004)
"Terry, I read your comments about Chip in you May-June mailer. I was very impressed with the way it was written and how much was said in so little space. Well done, terry. I have enjoyed the few brief times we've visited since my return to Bloomington Gold. Likewise, I've enjoyed visiting with Tom and getting to know him a little better. He has been very nice to me. As Chip has said so many times, 'life is good'. However, my mom also has has a line that is appropriate, 'life is short'. I intend to keep these two things in mind and place a higher priority on the great people in the Corvette industry than on the industry itself. Therefore, I'm looking forward to a much closer and friendlier relationship with, Tom, and others this time around. Best regards,"
-D.B., Bloomington Gold (2004)
"Dear Mike, On behalf of SAE Detroit section, I want to extend my gratitude for an awesome tour of ProTeam's Corvette collection. It's a dazzling collection and we especially enjoyed hearing about the evolution of the vehicle starting with first 1953 Vette. We appreciate your hospitality in offering refreshments and wonderful stories that can only come from someone who loves the vehicle. SAE participants raved about the experience of seeing room after room of Corvettes. Thanks so much for an outstanding event. Sincerely,"
-C.G., Livonia, Mi. (2004)
"My gosh, this was my (first) visit to ProTeam's facilities. It was like being catholic and visiting the Pope's headquarters! All (Corvettes) were extraordinary - You clearly buy only the best. I bought a 1965 327/365 coupe, black/tan, gorgeous conforming to exactly what I was looking for (#2 nice clean car). Drive and not worry with a 'trailer queen' special car."
-B.J., Woodside, Ca. (2004)
"Dear Terry: Thank you for your interest in my recent purchase from your company. The car is too new to me at this time to think about flipping it for a dollar value. However, if I decide to sell it or any of my cars, I would certainly call ProTeam. My wife and I were treated extremely well and with no pressure whatsoever and that's saying a lot when you are in a toy store like yours and liking everything you see. Again, thank you and see you next time around. Sincerely,"
-W.E, Jamison, Pa. (2004)
"Snow Leopard Entertainment is my corporation. I am a film and television editor. I edited the 1st Rugrats movie and the 3rd Rugrats movie, Rugrats Gone Wild. In television, I edit the promos/commercials you see on tv for the networks of NBC and ABC predominately. I'm actually excited to show Jay Leno my new car although I don't know if I'll let him drive it!!! He has two warehouse full of cars, 2 of which are the Callaway Corvette and another one that is yellow, a newer model. He should really get a classic! Anyway, I can't wait until the car arrives. I am soooo excited. It looks beautiful! Well just let me know when the car will be arriving, hopefully my cast will be off by then so I can drive it!
-Kim, email 7/9/2004
"Terry, I think you have a promotional value that you have not strongly promoted. It's something that is the truth and nobody can dispute. ProTeam has the WORLD FAMOUS CORVETTE COLLECTION. The words may not be exactly correct and you can play with them. But it is certainly something that you can build a strong brand around. When you can position yourself as biggest or best, and it is based on something that is fact, long term promoting of it can add tremendous brand image and value. Dana"
-D.M., Marengo, Ill (2004)
"Unfortunately I was unable to visit. Buying sight unseen was scary at best. I took the chance after a year of being unable to locate the 1970-71 LT-1 convertible myself. Very glad I took the chance. I look forward to dealing with ProTeam in three to four for my next anticipated purchase."
-Y., Newbury Pk., Ca. (2004)
"Chris, just wanted to again send you my thanks for all the help in assisting me with my purchase of the 67 coupe, including the steering columns measurements you just did. The measurements of the other columns on other cars helped especially; I'll now look into changes to the seat and back cushions instead. Also, I just got back the photos I took of the mid year cars that were in the same storage area as the car I bought. How I wish I could have afforded one of the big block cars, especially the maroon '66 that fit me so well. Perhaps in a couple years (when I'm rich and famous) I'll be able to look seriously at buying a big block car from you. Hope your sales are going well."
-D. N., email 11-22-2004
| | | |
| --- | --- | --- |
| | "I had a nice visit with Tom this evening. He brought my new toy and I love it. I thought you might like to see a couple of photos. Tom said you might keep your eyes open for a convertible top for me. Thanks so much for the great service."- M. A., email 12/2/2004 | |
We wish to sincerely thank all of our past visitors and buyers & hope your visit at ProTeam was enjoyable and memorable. Especially, we thank-you for the kind letters and returned questionnaires.
Corvette News | Events | Tech Help

Feature Cars | New Arrivals
By joining our community e-newsletter, we will keep you up to speed every two weeks or so with Corvette related news.
We will never sell or share your information and you can opt out at anytime.
*Fill out the form below to receive ProTeam's FREE electronic newsletter and join our community, thank-you.
Click here to check out ProTeam's Corvette news archives dating back to January 2006